Football Icon Chris Ault Took Part in a TV Reality Series Pilot About American Football Team From Europe, Preparing for the Match in the U.S. Official Trailer Released by Inbornmedia.
Press Release
•
updated: Oct 4, 2017
The official TV series trailer "Mission Touchdown" featuring Chris Ault has been released by Inbornmedia.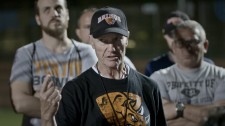 WARSAW, Poland, October 4, 2017 (Newswire.com) - Mission Touchdown is a reality show format about an American football team from Europe, training and preparing for its final challenge – the "Battle in the U.S." It is the reinterpretation of one of America's finest inventions – football – through the eyes of a team from the "old continent", but guided by an authentic football icon, Coach Chris Ault: NCAA Hall of Famer, and architect of the "Pistol Offense."
Maciej Pawelczyk, TV producer, said: "This all started when I was called by my Norwegian friend Thomas Martin Wiggen who is a die-hard football fan. He said he had this bold idea for a reality TV show. We didn't know a single thing about American football but, we liked the concept and that was it — we decided to be a part of it! Soon after, we contacted Matteo Pella, vice president of the Rhinos, an American football team in Milan. He helped us get Couch Chris Ault on board. We flew straight to Milan to frame the concept and shoot the pilot."
MISSION TOUCHDOWN TRAILER: https://www.youtube.com/watch?v=OY3cKT_j_iU&t=1s
"We're proud to say it's the first TV format of its kind. We will search and find the best European athletes and personalities to see if their specific skillset from rugby, wrestling, basketball, handball, MMA and other relevant sports can be utilized in American football. As well, we will seek to find out if they have the mental toughness necessary to play NCAA-level football in the U.S. – Mission Touchdown's big final challenge! In future, we want to go further, imagine a season with a Japanese, South African or Russian team." - added the co-producer Lars Morthen Saether.
The drama, the emotions, the struggles and the battle for new players to make it onto the roster are the core of the format. There will be friction, conflicts, successes, failures, emotions and testosterone — a human drama, all controlled by the American coach and his coaching staff.
Can the European athletes strengthen the team throughout before they travel to America to face their ultimate challenge — an NCAA football team? Can they work together and hold their ground at level of football they have never experienced before?
"We are currently looking for partners, including major US TV networks, to get this show off the ground and running, into the endzone!" - finished Maciej Pawelczyk.
Maciej Pawelczyk
Phone: 0048 661 389 134
Email: mp@inbornmedia.com
Source: Inbornmedia
Related Media