Inauguration of the 2016 Cross-Border Investment and Trade Fair of Guizhou (China) Inland Opening-Up Pilot Economic Zone
Press Release
•
updated: Dec 2, 2016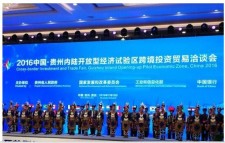 Guizhou, China, December 1, 2016 (Newswire.com) - Guizhou, China, December 1, 2016 (Newswire.com) - ​​The ​Investment Promotion Bureau of Gui'an New Area announced that on 10th November, 2016 Cross-Border Investment and Trade Fair of Guizhou (China) Inland Opening-up Pilot Economic Zone inaugurated in Gui'an New Area. Distinguished guests addressed the opening ceremony, including Sun Zhigang, Vice-secretary of CPC Guizhou Provincial Committee & Governor of Guizhou Province; Chen Siqing, President of Bank of China; Lu Pengqi, Vice-chairman of the China Council for the Promotion of International Trade (CCPIT); and Tian Jinchen, Director of National Development and Reform Commission (NDRC). Qing Rupei, a member of the standing committee of CPC Guizhou Provincial Committee, presided over the opening ceremony.
On behalf of Guizhou Provincial Party Committee, Sun Zhigang extended warm welcome and sincere appreciation to all the guests participating in the meeting. According to Sun, Guizhou has stuck to two strategies–development and ecology in recent years. On one hand, it vigorously implemented the policy of poverty alleviation; on the other hand, it actively invested in the projects of big data. Guizhou has achieved significant results in the social economic development, construction of transportation infrastructure and establishment of opening-up platform, becoming a more open market and more optimized investment environment. Nowadays, Guizhou not only enjoys advantageous climatic and geographical conditions, but also possesses favorable human resources. Sun said, "We sincerely invite all the guests, home and broad, to Guizhou for touring, investing, and cooperating. We'd like to seize all the opportunities to create a win-win situation."
According to Lu Pengqi, the State Council officially agreed to establish Guizhou Inland Opening-up Economic Pilot Zone, which fully showed that Guizhou Province enjoys a prominent position in the national development strategies in the new era. The special natural conditions and advantages, especially the rapid development of big data, enlarged health, grand tour, and great ecosystem of Guizhou Province, provided domestic and foreign investors with broad space.
According to Tian Jinchen, with the implementation of the Belt and Road Initiative, western China turned to be the frontier area in opening-up strategy, and therefore it is exactly the right time to establish Guizhou Inland Opening-Up Economic Pilot Zone. "The 13th Five-Year Plan is crucial for turning China into a moderately prosperous society," said Tian. "Therefore, we hope Guizhou would combine its tasks and goals of establishing the Pilot Zone with the implementation of the 13th Five-Year Plan to ensure a good start in all work."
Representatives from Zurich, China-Britain Business Council, and Central Highland Development Cooperation of Australia addressed the conference. A signing ceremony was held during the conference and 193 projects were signed with the contract value of more than RMB140 billion.
Source: Investment Promotion Bureau of Gui'an New Area