Master Data Hub of Cloud National Data Center to Be Settled in Gui'an With USD1 Billion Investment
Press Release
•
updated: Jul 21, 2017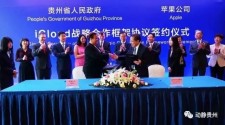 Guizhou, China, July 21, 2017 (Newswire.com) - On the morning of July 12, People's Government of Guizhou Province signed the cooperation agreement with Apple Inc. (Apple) involving Apple's iCloud service in mainland China and an investment of USD1 billion.
The cooperation detail was officially unveiled on this very day after a period of unreported negotiation. The officer for the contract signing ceremony on behalf of Apple was Lisa Jackson, its global Vice President, and on behalf of Guizhou Province was Qin Rupei, Executive Vice Governor, with Chen Miner, Secretary of Guizhou Provincial Committee of the CPC attending the ceremony as the witness.
Lisa Jackson, global vice president of Apple revealed that their choice of Guizhou Province was based on its well-maintained ecology as Apple values environmental protection and green development, and she felt really happy for the settlement of such an important project in Guizhou. She also mentioned she was fully confident about the cooperation considering Guizhou's rapid development in a big data area.
"Guizhou has achieved remarkable growth and become one of the places with the highest development potentials in the aspect of national new data center."
"Chinese users like to use iCloud to safely store their photos, videos, documents and application programs. I believe the new cooperation relationship will improve Chinese users' experience by decreasing delay and enhancing reliability." --Lisa Jackson, Vice President of Environmental Policy and Social Affairs of Apple
What is the specific content of this eye-catching agreement?
Point one: Guizhou-Cloud Big Data Industry Co., Ltd. (Guizhou-Cloud) is the first and the only cooperative partner of Apple to operate iCloud service in mainland China. As the operation subject, Guizhou-Cloud will run the iCloud service in mainland China. In the meanwhile, the agreement specifies that iCloud service will offer services to users with both brands of iCloud and Guizhou-Cloud in China.
Point two: The Master Data Hub of iCloud National Data Center will be constructed in Gui'an New Area with an investment of USD1 billion.
Point three: Apple will register a company entity and construct iCloud Gui'an New Area Master Data Hub together with Guizhou-Cloud operated by the latter and technically supported by Apple. When the project is completed, Chinese Apple user data will be stored in the data center of mainland China, further enhancing users' experience of iCloud service.
In today's news conference, the parties concerned also unveiled some major features of Guizhou's cooperation with Apple.
The Large project--Apple enjoys enormous user base and the project will offer services to the users nationwide as well as the very impressive investment of USD1 billion.
Innovative cooperation model--Reportedly, the project is both strongly policy-based and complicated. Since Guizhou Province and Apple have jointly conducted in-depth exploration and innovated the cooperation model as one working team. Despite the fact that parties concerned failed to reveal any innovative breakthroughs in the cooperation details, the project will still exert significant demonstration effects on Guizhou's cooperation with international technological enterprises in the future.
China's first Green Data Center--the data center constructed by both parties will all be powered by green and renewable energy, which can be called China's first 100% renewable energy-powered data center. Guizhou Province and Apple will be dedicated to the environmental protection and serve as a symbolic role in promoting the green and ecological industrial development with demonstration effects.
Source: Investment Promotion Bureau of Gui'an New Area
Related Media