In The Rooms Offers Popular Remote Addiction Recovery Meetings for Those at Risk From COVID-19
Press Release
•
updated: Mar 16, 2020
Co-Founders Ronald Tannebaum and Ken Pomerance available for interviews.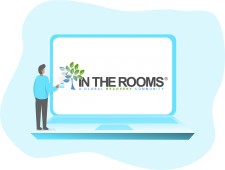 PLANTATION, Fla., March 16, 2020 (Newswire.com) - ​​​In The Rooms, a free global social network for those recovering from alcohol, drug and other addictions, continues to offer live, online peer recovery meetings to all members. Remote meetings are especially essential as COVID-19 spreads worldwide. Anyone who wants to reduce their COVID-19 risk can attend online recovery meetings at In The Rooms.
The site has long provided online recovery meetings to people who can't attend their regular face-to-face meetings due to work, travel, or illness. The website already serves over 599,000 people in addiction recovery and their family, friends and allies worldwide. Anyone who is under quarantine or worried about COVID-19 risk from in-person meetings can join the In The Rooms community.
In The Rooms co-founders Ronald Tannebaum and Ken Pomerance first developed the website to give those recovering from alcohol, drug and other addictions more ways to attend the meetings so essential to their recovery. The online meetings supplement in-person meetings, though they have become more popular since the American government declared COVID-19 a federal emergency on March 13. Through March 15, In The Rooms nearly tripled its new user traffic (on March 9, the site had 4,184 new users, but that number had risen to 12,155 on March 15). This increase brought new membership: from March 13 to March 15, In The Rooms added 4,693 new members. On March 16, the website also debuted its Coronavirus Support Meeting under host Sophia Caudle, Ph.D., LPC-S, CSAT-S. The new online recovery group will offer support for COVID-19-related stress for website members every Monday afternoon for the foreseeable future.
"We have been absolutely swamped with new members seeking a safe place for their recovery," says Pomerance, "and we're so grateful to be of service. We've done our best to come up with a platform which gives the warmth and caring you'd find in any in-person meeting. The only things missing are the hugs!"
"If you're in recovery and concerned about attending your meetings because of the coronavirus," adds Tannebaum, "In The Rooms has the safer solution for you, and we'd love to have you."
Because COVID-19 has led health officials to recommend self-quarantines, In The Rooms has also chosen to launch its upcoming app over a month early. A careful redesign of the 2012 version had been planned for May, but because mobile access to recovery meetings became more urgent under threat of COVID-19, developers will release the app as soon as April 1. The new app will give easier access to "live online meetings from early morning to late at night, seven days a week," according to Tannebaum.
Because of the current concern about spreading COVID-19 around the world, In The Rooms has already become a recommendation for the addiction recovery community:
About In The Rooms : The website, launched in 2008, offers all its 131 video meetings with free online membership and also gives expert input from substance-abuse doctors and counselors, written member testimonies and online content about substance-free living. To date, 70% of its members are over the age of 35 years, with 53% over 45. Co-founder Ronald Tannebaum is available at rt@intherooms.com, and co-founder Ken Pomerance is available at kennyp@intherooms.com.
Source: In The Rooms