In the Business of Saving Lives: New England Regional Conference of Radon Professionals
Press Release
•
updated: Jun 23, 2017
Spruce Environmental Technologies, Inc. attended, sponsored, and provided professional training at the annual New England Chapter Conference of the American Association of Radon Scientists and Technologists.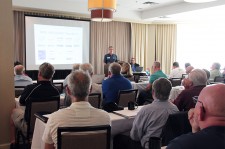 Ward Hill, MA, June 23, 2017 (Newswire.com) - 650,000 homes are at high risk in Massachusetts. At least 30 percent of homes in New Hampshire are at high risk. One-third of homes in Maine are at high risk. These are just some of the staggering statistics out of New England pertaining to the #1 environmental health threat and #1 cause of lung cancer for nonsmokers: radon.
For professionals attending this year's New England Chapter Conference of the American Association of Radon Scientists and Technologists (NEAARST), reducing radon risk in homes, schools, workplaces, and other buildings is their daily reality. NEAARST is the only event of its kind in the region, and provides radon professionals with essential training credits, as well as opportunities to connect on regional concerns.
This year's NEAARST conference was held in historic downtown Portsmouth, New Hampshire at the Sheraton Harborside. The Conference consisted of two days of training, as well as important national updates of standards, technologies, and upcoming industry events. Training topics ranged from New Statistics on U.S. Radon Prevalence, to Mitigation Challenges, to Health and Safety Tools, among many other dynamic sessions.
The conference program also included a strong focus on Cause Marketing — how affiliating your business with a cause that you believe in can benefit both you and the organization to which you donate time, efforts, and funds. Representatives from Cancer Survivors Against Radon (CanSAR), and American Lung Association (ALA) of the Northeast / LUNG FORCE inspired attendees with lung cancer survivor stories and important statistics, motivating them to become even more involved in the lung cancer activism community, one which is directly tied to the life-saving work of the radon community.
Despite national efforts to increase awareness, many homeowners are still uninformed about radon gas, a Class A carcinogen, and how crucial it is to test and treat their homes. Radon gas is odorless, colorless and tasteless, and can seep into any home through cracks in the foundation, accumulating over time to dangerous levels and putting homeowners and their families at risk for lung cancer.
With at least 21,000 deaths every year from radon-induced lung cancer, radon awareness efforts from industry professionals and those with aligned goals in the lung cancer community are crucial to reducing the radon death toll. Spruce Environmental Technologies is proud to be a sponsor of and to supply quality products, as well as radon training, at NEAARST and other regional/national events, to provide radon professionals with the education, tools and equipment they need to keep families safe.
Radon is a serious issue that requires professional remediation. If you have never tested your home, or if you have performed a test over two years ago, the U.S. EPA recommends that you test your home as soon as possible. To connect with certified, experienced radon contractors, use the Find A Professional tool at www.radonaway.com/FindPro. The radon industry is in the business of saving lives, and will continue to work together to develop new tools and methods to reduce the death toll in America from radon gas.
Source: Spruce Environmental Technologies, Inc.
Related Media
Tags
Additional Links