Impactian Enables Elite-Talent Scaling for Workforce of the Future
Press Release
•
updated: Sep 16, 2020
Impactian provides organizations pre-vetted Extraordinary Talent On Demand™ all at the click of a button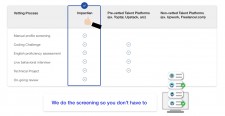 SAN FRANCISCO, September 16, 2020 (Newswire.com) - ​​​​​​​​​Impactian, a San Francisco-based Extraordinary Talent On Demand™ platform and a business division within Impactio Inc., is now providing clients an opportunity to look for qualified developers selected through a rigorous vetting process and enabling organizations to scale their remote teams on demand, all at the click of a button.
Impactian's platform guarantees a tailored project recruitment funnel for each client to find the best matching candidates among Impactian's highly qualified and experienced developers within the shortest time span and lowest cost, with a 7-day risk-free trial period to ensure clients get what they seek.
"In the face of the COVID-19 pandemic, the need for remote developers in software developments has soared. Impactian was built for a time like this - to provide the new 'Talent as a Service' hiring model - to make hiring extraordinary developers affordable and simple," says Lawrence Shay, CEO and Co-Founder of Impactio. "This new way of talent sourcing has allowed clients the freedom to explore their options around the world."
REMOTE WORKING IS THE NEW NORM
Gallup Panel reports that since March 2020, the percentage of the U.S. workforce working remotely has doubled from 31% to 63%. In conjunction, findings in Gartner's 2019 emerging risks survey shows that "63 percent of respondents indicated that talent shortage was a key concern for their organization." The demand for remote work and flexible working arrangements has become an urgent business imperative.
HYBRID TALENT CURATION
The proprietary Extraordinary Talent on Demand™ (EToD) vetting process is the first of its kind on the market. Unlike traditional recruitment agencies, Impactian integrates the best of both worlds. Leveraging its data-driven expertise in analytics and CV profiling, combined with a dedicated recruiting team, to execute a multi-faceted screening process for developer core competencies. Only the top 2% of candidates are chosen to be a part of the network.
Compared to other talent platforms, Impactian has a vetting process that encompasses intricate evaluations--manual profile screening, coding challenge, English proficiency assessment, live behavioral interview, technical project, and on-going review-- to find the best candidates for clients' business objectives.
RAPID TALENT SCALING ON-DEMAND
Impactian's platform services streamline the project recruitment funnel. The dedicated recruitment teams work around the clock to constantly source talent from all over the globe to ensure the best fit is always available for client projects. The developers on the network are highly experienced and have typically worked at or currently work for renowned organizations across an array of industries.
ONE PRICE WITH LIMITLESS FLEXIBILITY
Impactian's fee is simple. With $30 USD per hour, per developer, every client can hire the talent they need for 20, 30, or 40 hours a week based on their demands. There are no long-term contracts, allowing flexibility for clients to plan project expenses without the hassle of complicated billing and pro-rated disputes.
7-DAY, RISK-FREE TRIAL PERIOD
Clients are guaranteed unlimited re-matching of developers without additional charges within the trial period if they are unsatisfied with their candidate.
DEDICATED ACCOUNT MANAGERS
Impactian assigns dedicated Account Managers to work with clients end-to-end. During this time, they will work with the client specifically to understand their unique challenges and goals and identify talent gaps in the client's organization in order to deliver the best outcome for projects.
For more information about these services, please visit Impactian's website at: https://www.impactian.com/
About Impactio
Impactio Inc. is an American internet technology company based in San Francisco, California, that operates several online data analytics aggregators in different application domains and owns a remote extraordinary talent network including namesake and flagship Impactio.com, LeaseTalk and Impactian. Its flagship, Impactio.com, is America's leading platform of academic impact analytics and professional reputation management designed for PhDs, scientists, researchers, and engineers. Launched in early 2020, the platform offers its members visualized impact analytics reports, citation management tools, academic resume builder, and network capabilities.
Impactio also owns Impactian, which offers Extraordinary Talent on Demand™ (EToD™) service, empowering companies to dynamically scale their remote developer teams on demand. Impactian is a premier elite talent network consisting of the world's top 2% of extraordinary developers and other talents who have been pre-vetted by Impactian and will be connected to well-established companies in the globe to offer remote and agile development services on demand.
Impactio is made with love and passion for technology and founded by alumni from the EECS Department at the University of Michigan, Ann Arbor, Stanford University, and Rice University.
CONTACT:
Impactio, Inc.
Public Relations Department
1.415.287.0187
press@impactio.com
https://www.impactio.com
Source: Impactian
Related Media