Impact 21 Introduces Scot Knox as Principal Consultant
Press Release
•
Jan 31, 2023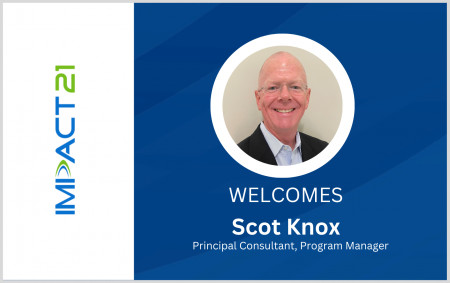 LEXINGTON, Ky., January 31, 2023 (Newswire.com) - Impact 21, a retail consulting, analytics, and services company, introduces Scot Knox as a Principal Consultant, Program Manager. Knox is a master of juggling priorities, developing policies and standards, and leading collaboration between multiple entities to improve client programs and profitability. He cultivates results for multi-unit operations management in both foodservice and retail with a focus on merchandising, foodservice, team building, and project management.
"It's wonderful to have Scot as part of our team. He brings deep operational experience in foodservice and retail that ultimately leads our clients to deploy stronger and more profitable programs. His proven leadership and ability to bring teams together is an asset to every client he works with," says Liza Salaria, Practice Lead at Impact 21.
Knox has served in the convenience retailing industry for the past 16 years, including prior work with national and proprietary brands. Most recently, Knox served as Region Director and Market Leader for 7-Eleven after the acquisition of Sunoco and MACS. He developed policies and standard operating procedures and was charged with brand development for many food offerings. During the development and implementation of restaurant programs, he collaborated with the construction team on design elements, including employee workflow spaces, customer-facing aesthetics, and equipment selection. Knox liaised between contractors and the corporate construction team, worked with the restaurant team on development and selection of menu items, and developed training and job aids for foodservice programs.
Knox was a part of many successes during his tenure as Region Sales Director and Director of Restaurant Operations for The Pantry, Inc., including the creation, development, and implementation of a new foodservice offer. Along with the merchandising team, he was instrumental in establishing the distribution process and worked in tandem with the pricebook team to add items to the POS system. Knox developed a local new hire orientation class and helped create a companywide district manager training program.
"I am excited to join a great team. I look forward to sharing my passion in the convenience store industry with others and helping bring out their full potential," said Knox.
Source: Impact 21