Impact 21 Makes Strategic Investment in Energy's Future
Press Release
•
Aug 30, 2023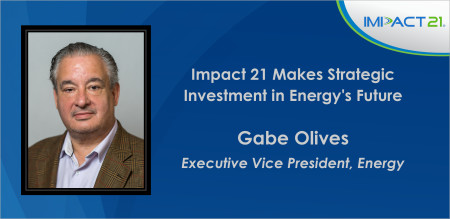 LEXINGTON, Ky., August 30, 2023 (Newswire.com) - Impact 21, a consulting firm that enables the specialty retail, convenience, and energy channels to deliver seamless customer experiences, fortifies its commitment to the energy industry by positioning Gabe Olives as Impact 21's Executive Vice President, Energy. Impact 21 is dedicated to the advancement of the energy industry while helping the convenience channel to not only navigate through the evolution of transportation energy, but to thrive in it.
Disruption is prevalent in the transportation energy space as a whole, triggering significant shifts for convenience retail. The complexity of navigating the changes within the energy industry runs deep. It takes vast knowledge of and extensive experience within the industry to lead the charge, and Gabe Olives has what it takes to do so.
"In his new role, Gabe will lead the industry and Impact 21 clients through the changes impacting the energy supply chain. His leadership and team's support will be critical as the industry shifts considerably toward alternative fuels and EV while still managing the complexities of wholesale, distribution, transportation, and retailing of petroleum and biofuels," said Impact 21 CEO Lisa Biggs. "With Gabe's broad view of the industry from a fuel-strategy, technology, and regulatory perspective, he is uniquely positioned to blaze the trail."
Olives' expertise, gained through his extensive experience in technology, energy management, and government relations, along with his nearly 40 years in the convenience store channel, is an asset to the industry. He has been very active as an advocate for process improvement and technical standards and is a frequent speaker and contributor to NACS, Conexxus, SIGMA, and trade publications. He currently serves on the Transportation Energy Institute (formerly The Fuels Institute) Board of Advisors. Olives also leads the BDX committee for Conexxus and serves on the Board of Advisors. He served as Chairman of Conexxus in 2015 and served on the Board of Directors of PCATS as its Chairman in 2009. He was honored by CSN magazine as the 2010 Top Tech Executive of the Year. He has also served on the Board of Directors of the Pennsylvania Food Merchants Association and as Chairman of its Fuels Committee. While he will continue to support his current clients and projects, his primary focus will be dedicated to energy.
"It's an honor to be a key player during such a pivotal time in the energy industry," says Olives. "As the world of alternative fuel and EV progresses and the role of transportation fuels shifts, it is critical to move forward intentionally. There's a whole gambit of factors, strategies, and investments to be considered by suppliers, retailers, and organizations to understand how they're going to persevere and continue to grow profitability. Understanding the velocity and timing of the transition requires a strategy nimble enough to adapt."
Olives will be supported by two well-recognized energy leaders, Alvin Fortson, Wholesale Fuels & Logistics, and Anila Siraj, EV, who will lead a team of industry experts.
Source: Impact 21