ilo Vapor's DabTabs™ Product Line Emerges as Solution for Consumers Looking for Alternatives to Traditional Cannabis and Hemp Cartridges
Press Release
•
updated: Oct 17, 2019
Consumers and Manufacturers look to DabTabs as an alternative to traditional cartridges for clean and easy consumption of full-spectrum extracts and concentrates // ilo Vapor releases certifications and testing information on DabTabs and related devices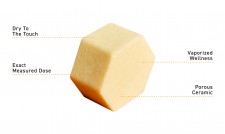 PORTLAND, Ore., October 17, 2019 (Newswire.com) - ​​ilo Vapor, a division of Iconic Ventures, Inc., is pleased to provide an update on its growing line of DabTabs products. With the rise in concerns related to the safety of vaporization, cannabis and hemp manufacturers, along with concerned consumers, are increasingly looking to the DabTabs product line as an alternative to traditional cartridges.
DabTabs are a clean, convenient ceramic tablet made from biologically inert, natural minerals that contain full-spectrum concentrates and extracts without the need for thinners, thickeners, or other additives that can come with traditional cartridge delivery. By using DabTabs, cannabis extract and concentrate manufacturers are able to provide consumers with a clean, convenient, and rigorously tested alternative to cartridges.
DabTabs Product Line and Availability
The DabTabs product line consists of DabTabs dablets which are distributed by licensed cannabis and hemp manufacturers, the DabTabs Go™ device for convenient use with a variety of industry-standard 510-tread multi-stage batteries, and the new DabTabs Go All-in-One device featuring an integrated battery for the ultimate in convenience.
The DabTabs product line is currently available via licensed retailers in California, Nevada, Oregon, Michigan, Delaware, Maryland, and Arizona. Before the end of 2019, ilo anticipates availability in Washington, Massachusetts, Florida, Ohio, Oklahoma, and several Canadian provinces.
Education Initiative
In conjunction with its distribution partners, ilo initiated a multi-channel consumer education effort in September. Through retail displays, websites and social media, ilo is providing consumers with information they need to make an informed choice on their vaporization options. ilo and its partners will continue to expand the range and reach of this initiative throughout the remainder of 2019 and 2020.
"Consumers deserve clear and accurate information on their vaporization options. We have engaged with all our distribution partners to help educate their customers via retail displays, websites, and social media," said Michael Lindars, Co-founder and CEO at ilo Vapor. "We are pleased with the commitment that Halo Labs, MariMed, Sublime, and our other partners have made to the DabTabs product line and to educating consumers. We will continue to work closely as ilo expands these efforts."
Testing and Certification
ilo has obtained independent lab analysis demonstrating their patented and patent-pending line of DabTabs, vaporizable concentrate storage devices known as 'dablets', showed chemical inactivity in vapor production testing.
In an effort to investigate the stability of DabTabs' proprietary ceramic formulation, an accredited cannabis testing lab in Portland Oregon was retained to conduct a toxicant analysis measuring the formation of toxic compounds in the vapor produced by DabTabs saturated with cannabis extract and the same extract alone.
"The validation we received through this analysis about the dependability of our product has been gratifying," said Louis Franz, COO at ilo Vapor. "Independent lab testing has helped to confirm our assertion that when used with temperature-controlled vaporization devices and recommended temperatures, DabTabs could help improve consumer wellbeing. We will continue to rigorously test and verify our innovations against scientific observation to assure the safety and contribution of our products to that end."
As part of the independent testing, filled and unfilled DabTabs where heated to typical and excessive temperatures with the resulting vapor content compared to the same cannabis extract heated alone. The lab found a lower concentration of thermally-degraded compounds in the DabTabs vapor. The lab noted that the ceramic structure of DabTabs could help insulate the extract in a way that keeps the extract from reaching combustible temperatures and destroying the usable cannabinoids and terpenes.
"The core of our mission at ilo is to make products that offer true vaporization of cannabis and hemp extracts for the benefit of the consumer," said Greg Lynch, President of ilo Vapor. He continued, "Additionally, we are currently working through the initial steps with the FDA for DabTabs, with the hope that one day our dablets will be categorized in the same space as other vaporizable substance storage devices, such as medical-use inhalers."
DabTabs certifications and testing approvals
Tested and approved by the State of California for extracts and concentrates
Manufactured in an ISO 9001-2015 certified facility
ASTM C373-18 Certified to hold precisely 50mg
Provided in packaging that is certified to the ASTM D3475-18 Standard for Child Resistance
Tested by independent labs to ensure a pure vapor stream
Made in the USA from naturally occurring minerals sourced in the USA
Certified to the NSF/ASTM 61 standard for air and drinking water filtration and diffusion – certifying that the material is pure enough to be used in air and drinking water filtration and that it does not leach any material
Additional Information
Media contacts interested in additional detail, samples of educational materials, or interviews with Michael Lindars, Co-founder and CEO of ilo Vapor, are encouraged to contact ilo via press@ilovapor.com
About ilo Vapor
Founded in 2016, ilo Vapor, a division of Iconic Ventures Inc., has been quietly developing groundbreaking new technology for cannabis consumption, engineering innovative products that deliver unparalleled vaporization experiences. ilo Vapor is a Portland, Oregon based technology, brand, and product development company engineering patented and patent-pending vaporization technology devices and solutions through cutting-edge technology and innovative design.
Contact
For more information or questions, please contact: press@ilovapor.com
Investor Relations: ir@ilovapor.com
Websites: www.ilovapor.com www.dabtabs.com
Instagram: @ilo.vapor @dab.tabs
Media Assets
For high-res, print-ready files or additional assets, please contact ilo @ press@ilovapor.com
Source: Iconic Ventures, Inc.
Related Media