Icehawk Gaming Gives the Middle Finger to Gaming Problems
Press Release
•
updated: May 23, 2017
A solution to all of the annoying problems faced by many gamers can be found via the 'The Middle Finger Gaming Gloves' project on Kickstarter. This campaign was launched to bring a new gaming glove to market that is focused on improving gameplay.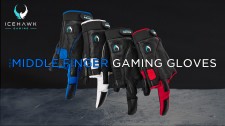 Columbus, Ohio, May 23, 2017 (Newswire.com) - John Henderson, the president and founder of Icehawk Gaming, has launched a crowdfunding campaign on Kickstarter. This campaign has a funding goal of $20,000, which needs to be raised in order to bring his inspired Middle Finger Gaming Gloves to market.
These gloves will put an end to all of the painful problems and health issues that gamers face after an extended period of gameplay. They were designed to prevent blisters, repetitive strain injury, joint pain, and other issues that gamers may face, without impeding performance.
"The Middle Finger Gaming Gloves not only assist with the typical health issues a gamer faces and provide the benefits of better gameplay without pain, but they also ensure a gamer can play without skill degradation."

John Henderson, Creator and Fellow Gamer
When asked about the inspiration for his gloves, Henderson states: "Over a year ago after I purchased a gaming system for my son and found my former passion for video games reignited. After playing too much, I developed some painful issues such as blisters, joint pain, etc., and went looking for something to help. I was unable to find anything that would suffice, as the few things I found had a detrimental effect on my ability to play."
The Middle Finger Gaming Gloves not only address the health issues associated with gaming, but because of their innovative design, they can actually improve a gamer's performance. The company wanted to focus on creating a product that combines both comfort and control, while also being lightweight and breathable. The Middle Finger Gaming Gloves offer blister protection, thumb support, improved circulation, better grip control, prevention of sweaty palms, and more. They come with a removable thumb splint, which is used to stabilize the thumb in order to prevent injury; and are made of digital leather with gel padding and vented underlays for breathability.
These gloves offer mild compression in a contoured design in order to precisely fit a gamer's hand and flex in all the right places. The middle finger is fully covered to prevent blisters, while the other three fingers are open, hence the name "Middle Finger Gaming Gloves." These gloves are not just for the hardcore gamer; even the person who enjoys occasional or casual gameplay will find them beneficial because of their inspired design. They are currently being offered in 4 colors: blue, black, white and red.
The team at Icehawk Gaming has been working very diligently on all of the essential groundwork for their innovative gloves and they are now ready to begin the process of bringing the Middle Finger Gaming Gloves to market, which is why they have launched their Kickstarter campaign and hired a team of crowdfunding specialists to help them spread the word. As an added bonus with this campaign, the team is offering their supporters the opportunity to pre-order these gloves, from a single pair up to a multi-pack of ten pairs, at a significant savings off of regular retail pricing. The team has a projected delivery timeframe of October 2017. Full details can be found on their Kickstarter campaign page.
About Icehawk Gaming:
Icehawk Gaming is a gaming hardware company that is based in Columbus, Ohio. It was founded by John Henderson, who is the creator of the Middle Finger Gaming Gloves.
To learn more about the Middle Finger crowdfunding project, Click Here
​For more information about Icehawk Gaming, Click Here
​To learn more about the team of specialists at Smart Crowdfunding, Click Here
​To contact via email, write to John Henderson at: jhenderson@icehawkgaming.com
Source: Icehawk Gaming
Related Media
Tags
Additional Links