I Am the Movement Global Concert & Move-a-Thon
An Interactive Event Providing Support, Community, and Resources for Survivors of Sexual & Domestic Violence
Press Release
-
updated: Oct 1, 2020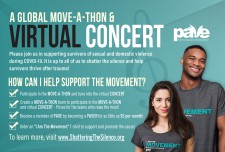 LOS ANGELES, October 1, 2020 (Newswire.com) - October is Domestic Violence Awareness Month. Abuse calls have gone up 22%, and for the first time ever, minors make up fifty percent of visitors to the National Sexual Assault Hotline (RAINN). As social distancing continues, many survivors of domestic violence, sexual assault, and child abuse are increasingly in danger at home. This October 10th, for Domestic Violence Awareness Month, PAVE is hosting an I Am the Movement Global Concert & Move-A-Thon. This event was created to provide survivors with resources and support, and to prevent these crimes from continuing through advocacy and education.
PAVE is a movement creating a world free from sexual violence and building communities to support survivors. PAVE empowers students, parents, and civic leaders to end sexual violence. Since 2001, PAVE has trained more than 50,000 college students and 10,000 professionals including military service members and maintains over 50 chapters and affiliates across the country.
PAVE's Outreach Director, Rachel Mackinnon said, "As a survivor and lifelong activist, I believe in the power of community to accomplish systemic change. Due to continuing social distancing orders, survivors are increasingly in danger and feeling isolated. PAVE's I Am the Movement Global Concert & Move-A-Thon gives survivors and allies the opportunity to come together virtually to support survivors, and to take a step towards eradicating gender-based violence."
I Am the Movement Concert will feature musician, and YouTube personality, Danny Padilla. Become the Movement with PAVE by joining forces with nationally known nonprofits, influencers, celebrities, and musical talent to shatter the silence of sexual and domestic violence this Domestic Violence Awareness Month.
Through empowering musical acts and moving in unity, we will come together as a virtual community to raise awareness and directly provide resources to survivors of sexual and domestic violence.
100% of the proceeds I Am the Movement Global Concert & Move-A-Thon will go directly to supporting survivors of sexual abuse, domestic violence, and human trafficking. Specifically, PAVE is raising money to support survivors at adolescent treatment facilities, and to send survivor support care packages to survivors in need!
We hope you can join this dynamic, virtual Move-A-Thon and Concert in support of domestic and sexual violence survivors! To register and become the movement by bringing positive change to your community please visit: www.ShatteringTheSilence.org/IAmTheMovement.
MEDIA CONTACT: PAVE's Outreach Director, Rachel Mackinnon: 877-399-1346, Ex 7
Source: Promoting Awareness, Victim Empowerment (PAVE)
Share:
---
Categories: Celebrities
Tags: COVID, COVID-19, Pandemic, The Bachelor
---
Related Files
Additional Links