HumanTouch, LLC Installs COVID-19 Solution Kiosks and Smart Lockers to Keep Federal Agencies Online, Working & Telecommuting
Press Release
•
updated: Sep 18, 2020
Connect2IT! Kiosk & Smart Lockers give staff access to live tech experts and replacement equipment in a remote platform for government offices, campuses and federal locations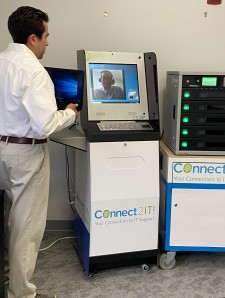 TYSONS CORNER, Va., September 17, 2020 (Newswire.com) - HumanTouch, LLC has installed live-remote technician kiosks at Federal agency campuses to support their increased IT needs due to COVID-19. The Connect2IT! Kiosk allows Federal employees to connect their computer or device to an off-site technician to fix a problem or provide support. In cases where the device needs replacement, staff accesses a temporary device from the Connect2IT! Smart Locker. Demos are being held now.
HumanTouch currently runs award-winning support services for Federal Agencies, in office and via teleworking staff. The Connect2IT! kiosk provides that same personal service while maintaining Covid-19 distancing. Customers access secure, reliable and zero-touch IT services, available 24/7/365. Smart storage lockers offer inventory and asset management. They also provide options for replacement or loaner devices as well as opportunities for agency-wide IT maintenance like PC refresh or upgrades.
Connect2IT! kiosk gives offices, campuses and regional centers support where employees and contractors rely on it most. All kiosks are equipped with real-time live technicians, who solve IT service needs, from troubleshooting, repairs, PC refresh, tablet and mobile phone triage - through face-to-face, high definition conversations on an encrypted video connection. Connect2IT! Kiosk support Executive Care needs, staff that work around the clock, and the needs of telecommuting Federal Agency staff.
The Smart Storage Locker provides Federal Agencies a solution for getting a replacement or new equipment to staff in a timely manner. Smart Lockers eliminate the complications of mailing equipment to staff and ensures there is no lost inventory in the process. If a customer's device needs extended IT repair services, the Locker serves as the one-stop-shop for IT Support. Employees can quickly exchange their device for a preloaded device from the locker bays and have an IT Expert service their problem equipment, all within agency walls.
With the Connect2IT! Kiosk and Smart Storage Locker, HumanTouch bridges the gap between people and technology - providing secure working arrangements with reliable, badged and live IT Support for Federal Government IT needs.
For more information on how we are supporting federal agencies, visit www.connect2IT.usa or the HumanTouch, LLC YouTube Channel to see the product in action. Contact: 703-910-5090 x53 | ITkiosk@humantouchllc.com
Press: communications@humantouchllc.com
HumanTouch, LLC provides solutions for Federal and commercial organizations in cybersecurity, Cloud, infrastructure engineering, operations management, solutions engineering, strategy/modernization and more. For over 20 years, we have used our team of experts to strengthen clients' effectiveness in the marketplace by bolstering knowledge of the industry, anticipating and responding to growth and demands, and reducing risk in the digital age. We match our expertise with integrity, acumen and execution.
Headquarters: 7918 Jones Branch Drive, Suite 800, McLean VA 22102
Atlanta Office: 2971 Flowers Rd. S, Suite 213, Atlanta GA 30341
Email: info@humantouchllc.com | Phone: (703) 910-5090 DUNS#: 843919197 / CAGE Code: 1XS43
Source: HumanTouch, LLC
Tags
Related Files
Additional Links