HTVRONT's First-Ever Automatic Tumbler Heat Press Empowers Massive Creativity
Press Release
•
Jun 28, 2023
This Brand-New Automatic Tumbler Heat Press Boasts Efficiency, Ease, and Customization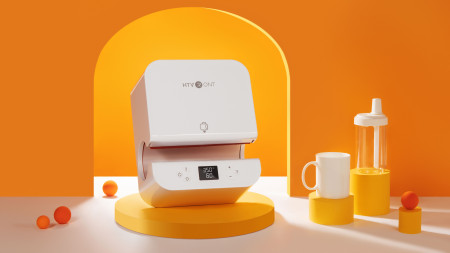 SACRAMENTO, Calif., June 28, 2023 (Newswire.com) - HTVRONT, an innovative brand powered by its mature product ecosystem, is now going to unveil its first automatic tumbler heat press machine, HTVRONT Auto Tumbler Heat Press, expanding its intelligent heat press lineup and bringing convenience to the handicraft industry.
HTVRONT Auto Tumbler Heat Press is designed to free each crafter's hands from sublimating personalized tumblers, cups, and mugs. With no manual work and an exclusively large heat plate, this machine can empower craft lovers with ease, efficiency, high security, and boundless creativity.
Sharing the design ideas of HTVRONT smart heat presses, the HTVRONT Auto Tumbler Heat Press comes with a stylish and high-tech look and a large curved heat plate with a length of 24cm/9.5in. The whole-new heat press enables cup projects from 10oz to 30oz in size and brings cost-effective work by heat transferring designs to two 15oz mugs at once, meeting a variety of the customers' demands on the market.
Along with upgraded heating speed and adjustable control panel for temperature and time, HTVRONT Auto Tumbler Heat Press delivers an efficient and intelligent work style. Unlike its counterparts on the market, this tumbler heat press allows users to set more matchable and accurate times and temperatures for their materials, highly improving the final results and performance. Additionally, it takes only five minutes to get to its highest temperature of 400℉, demonstrating a rapid and soothing user experience.
"HTVRONT Auto Tumbler Heat Press is the second automatic product in our heat press lineup. It's developed under the idea of bringing every crafter into a more intelligent era," said Allen He, CMO of HTVRONT. "This first Auto Tumbler Heat Press differentiates itself from competing products with its hassle-free operation, larger heating area, and customizable setting. That's what we want to offer our customers: freedom and massive creativity."
Besides high efficiency, this heat press further optimizes the portability and convenience for craft lovers via a lightweight design compared to traditional manual mug heat presses with a metal structure. And to further magnify its intelligence, the HTVRONT product team also enables the Auto Tumbler Heat Press a user-define mode, which can easily memorize the last set by users.
"HTVRONT will never stop at DIY garments through heat transfer technique. We commit to exploring more creative activities and applicable and effortless methods for our customers. HTVRONT Auto Tumbler Heat Press is just the onset of the journey, which will be released around August 2023. Currently, our product team is still striving for our next generation of HTVRONT Auto Heat Press. We're looking forward to the future," said Mike Wei, product manager of HTVRONT.
More details of the HTVRONT Auto Tumbler Heat Press are available at https://www.htvront.com; let's stay tuned.
For regular updates on HTVRONT, follow us on:
Facebook: https://www.facebook.com/htvront
Instagram: https://www.instagram.com/htvront
Contacts
Email: pr@htvront.com
Tel: +195 42807347
Source: HTVRONT
Tags