How to Avoid Common Motorcycle Accidents
Press Release
•
updated: Mar 1, 2018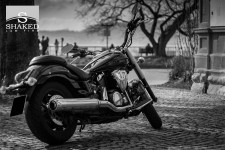 MIAMI, March 1, 2018 (Newswire.com) - MIAMI, February 28, 2018 (Newswire) -According to Shaked Law Firm, riding motorcycles can be fun, but if riders do not take the necessary safety precautions, it can become very dangerous. An accident involving a car may result in minor injuries or could cause severe injuries or death if the person is riding a motorcycle.
Although some accidents are unavoidable, caused by negligent drivers of other vehicles, other accidents might be avoided or their consequences lessened if a motorcyclist has the right skills and takes precautions says motorcycle accident lawyer Sagi Shaked.
Motorcycle Safety
For new riders, it is important to complete a basic rider course, and for my seasoned riders, an advanced course. Riders should wear a helmet and wear bright colors to make themselves more visible.
If a Vehicle Takes a Left in Front of a Motorcyclist
This is the most common motorcycle accident and caused by negligent, inattentive, distracted drivers. You can try to avoid it by preparing for it. Are you approaching an intersection, driveway or garage sale? Is there a gap in traffic that someone may want to suddenly fill? Are the wheels of the car in the lane next to you starting to turn in your direction?
Rear Ended
What if you come to a stop, but the driver behind you doesn't see you or is going too fast to stop in time. If you're at an intersection you could, nicely, pull in front of a car, and use them as a barrier to anyone coming from behind. To be more visible, you could also pull to the side of the land and rapidly flash your brake light by tapping a brake lever, keep the bike in gear and your right hand on the throttle.
No matter how many safety precautions a motorcyclist takes, there is always the possibility of a serious injury because of negligent or distracted drivers. If you or a loved one have been injured in a motorcycle accident, do not hesitate to contact a competent motorcycle accident attorney today.
About Shaked Law Firm P.A.
Shaked Law Firm P.A. provides superior representation for personal injury, medical malpractice or motor vehicle accidents in Miami. Mr. Shaked was one of the youngest lawyers in the United States to achieve a multi-million-dollar verdict for a single personal injury lawsuit. Furthermore, in 2017, Mr. Shaked obtained a $12,200,000 settlement for his client in a vehicular accident case.
Source: Shaked Law Firm
Additional Links