How Newswire's EMA GT Market Builder Drives Go-to-Market Strategy to Generate Sales Opportunities
Press Release
•
updated: Aug 19, 2020
Clear, concise, and consistent messaging has been a key to success for Newswire customers using the EMA GT Market Builder.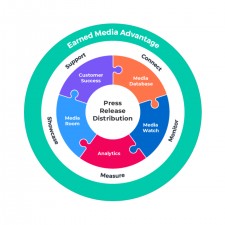 NEW YORK, August 19, 2020 (Newswire.com) - ​​As business services firms continue to navigate the next phase of the new reality brought about by COVID-19, Newswire's Earned Media Advantage Guided Tour Market Builder (EMA GT) remains a viable option for firms interested in increasing their brand awareness, generating leads, increasing sales opportunities and ultimately closing more business. Newswire works closely with business services companies to supplement their own in-house marketing and communications teams in order to develop content that is relevant and up to date. Through strategic and effective content distribution, companies can experience substantial growth within the business services industry.
By securing more media coverage through research, consistent outreach campaigns, and conversations with members of industry, Newswire's team of Earned Media Advantage Strategists are able to gain a pulse for trends in the business services industry. With trending topics such as digital adoption, COVID-19 precautions, and the rise of telecommunications services making headlines in trade publications daily, Newswire's EMAS team aligns Market Builder customers with these stories to increase brand awareness, generate more leads and ultimately position companies to increase sales by closing more business.
"Market Builder customers have full control when we collaborate in developing content. With that being said, we monitor industry trends so that we can make key suggestions that will help our customers create greater appeal to the media and major news outlets," said Charlie Terenzio, Newswire's VP of Earned Media Advantage Business.
Newswire's EMA GT Market Builder provides integrated media and marketing communications programs aimed to support business growth by increasing site traffic, qualified leads, and lower cost of new account acquisition.
"The EMA GT Market Builder is the only solution in the market that integrates media and marketing communications to generate more brand awareness, capture leads and increase sales opportunities under one program. We are the only company in the industry that addresses this need and our customer success demonstrates the results achieved across all industries," said Terenzio. "Our strategists leverage their expertise and utilize the Newswire platform to implement campaigns that increase the potential for both earned media coverage and meaningful leads."
Newswire's Earned Media Advantage Guided Tour helps business services companies best position themselves for success by providing best-in-class science, process, and technology. Through the meticulous and detailed development of effective messaging, customers can enhance their overall media and marketing communications strategy with the help of the Newswire team.
To learn how the Newswire team can help optimize your messaging for success, learn more about Newswire's Earned Media Advantage Guided Tour Market Builder by navigating to the program page.
About Newswire​
Newswire delivers press release and multimedia distribution software and services (SaaS) that empower the Earned Media Advantage: greater brand awareness, increased traffic, greater return on media and marketing communications spend and the competitive edge. With over a decade of experience, Newswire continues to provide its customers with the ability to deliver the right message to the right audience at the right time through the right medium.​
To learn more about how Newswire can help you, visit http://www.newswire.com. ​
Contact Information
Charlie Terenzio
VP of Earned Media Advantage Business
Newswire
Office: 813-480-3766
Email: charlie@newswire.com
Source: Newswire