Hot New Classroom Trend From Tech Expert Desi Sanchez on Tips on TV Blog
Press Release
•
updated: Aug 29, 2017
Artist, Techie and TV Host Reveals Some Hot New Products that Students and Parents Will Be Talking About.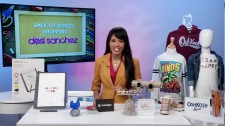 ATLANTA, August 29, 2017 (Newswire.com) - Going back to school used to be a simple matter of choosing pens, pencils and a lunchbox. Now, getting your kids ready for school is a multiple-choice quiz for deciding the best technology, fashions and trends to help make a student successful. From kindergarten to college, tech expert and former MTV Host Desi Sanchez explains the hottest new trends and money-saving ideas for the new school year.
TECHNOLOGY THAT CAN HELP STUDENTS WITH CLASS WORK
The perfect tech, especially for the college bound students, is the new Bamboo Slate. It takes note taking to the next level and can help reduce distractions. Students can write with pen and paper and save their notes digitally. It is the perfect tool for students who want to get focused and organized. The Bamboo Slate also helps save time because it converts the user's handwriting to text within an app on the user's smartphone. It even lets someone organize, edit and share notes and sketches via Dropbox, Evernote or OneNote. For more information, visit www.wacom.com.
WEARABLE TECH RECOMMENDATIONS FOR BACK TO SCHOOL
Wearable tech is certainly a hot trend in our fast-paced, technology-driven society. Fashionistas are looking for a little more style, and now they do not have to sacrifice personal look. The Ultimate Cuff is perfect to help dress to impress on the first day of school by introducing a line of affordable and stylish jewelry cuffs for Apple Watch and now Fitbit. The cuffs are interchangeable and available in three color finishes: Silver Rhodium, Yellow Gold and Rose Gold. All styles come in two options to fit both 38mm and 42mm Apple Watch sizes and there are also cuffs for Fitbit. For more information, visit www.theultimatecuff.com.
FASHION TIPS FOR BACK TO SCHOOL
According to a national survey, moms of elementary kids expect to spend over $285 on school supplies and donations to the classroom. This year, OshKosh B'Gosh, which is known for authentic, American heritage apparel, is helping Mom shop with purpose this back to school season. With their 4th annual B'gosh Jeanius Campaign, Moms can donate a pair of jeans at the register, or make a cash contribution in-store or online, which will help kids and teachers in their local community. It is a great way to shop classic fashions and give back at the same time! For more information, visit www.oshkosh.com.
MUST-HAVES WHEN SENDING KIDS BACK TO SCHOOL
Well, confidence is certainly important and what better way to show off that confidence than with a persons smile? A popular choice for teens that might need braces is Invisalign treatment because it lets them live their life without holding them back. The aligners are removable so they can eat the foods they enjoy and play sports without worrying about cuts from wires and brackets. Invisalign aligners can treat many cases that braces can, from simple to complex without the pain that is experienced with braces and treatment time is up to 50% faster than before. For more information, visit www.invisalign.com.
Contact: tipsontv@gmail.com
Source: Tips on TV
Related Media