HostBridge Publishes 'Guide to Creating CICS Web Services'
Press Release
•
updated: Nov 29, 2018
Guide explains how to make mainframe applications available as services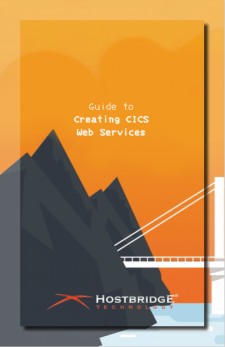 STILLWATER, Okla., November 29, 2018 (Newswire.com) - HostBridge Technology, the company that pioneered JavaScript on the mainframe to enable CICS integration, announces the availability of a free resource: "Guide to Creating CICS Web Services."
Mainframe CICS applications remain central to the core business activities of many enterprises and there's a persistent need to include the mainframe in the enterprise hybrid IT strategy. Using server-side JavaScript, enterprises can quickly and easily develop and deploy web services to make core business applications running on the mainframe accessible to web, cloud or mobile applications via an API or as a service. The HostBridge "Guide to Creating CICS Web Services" describes for enterprise architects and mainframe developers the steps involved in doing so.
Today's mainframes are modern, high-performance transactional systems at the heart of many enterprise digital efforts. At the heart of rapid, high-volume mainframe transaction processing is CICS. Therefore, it is essential for any mainframe shop to have resources to make CICS applications available as services so that they can be full-fledged participants in the modern hybrid IT environment.

Jason Bloomberg, President, Intellyx
The need to make mainframe applications available as services has never been greater, as any enterprise with a mainframe is operating in a de facto hybrid IT environment. "Today's mainframes are modern, high-performance transactional systems at the heart of many enterprise digital efforts," said Jason Bloomberg, president of analyst firm Intellyx. "At the heart of rapid, high-volume mainframe transaction processing is CICS. Therefore, it is essential for any mainframe shop to have resources to make CICS applications available as services so that they can be full-fledged participants in the modern hybrid IT environment."
The Guide covers:
• What CICS web services are and why they are the ideal way to integrate CICS applications.
• How using JavaScript makes CICS web services development fast and easy.
• What steps are in the CICS web services development process.
• How mainframe and middle-tier developers can work together to implement CICS web services.
The Guide is free and available for download at https://www.hostbridge.com/guide-to-creating-cics-web-services/.
About HostBridge Technology
HostBridge Technology develops and delivers enterprise software to enable integration of CICS applications and data with mobile, web and any other mid-tier applications and technologies. With HostBridge, integrations are easy to develop, fast to deploy, durable and high-performing because they do not rely on screen-scraping technology. For more information about HostBridge, please visit www.hostbridge.com.
Media Contact:
Jerry Rackley
Phone: 405.714.3685
Email: jerry.rackley@hostbridge.com
Source: HostBridge Technology
Related Media
Additional Links