HomeGardenandHomestead.com Releases 'Fall-Holiday 2017 Home and Garden Guide'
What's new and trending for Homes, Gardens and Homesteads is included in the new online guide
Press Release
-
updated: Oct 3, 2017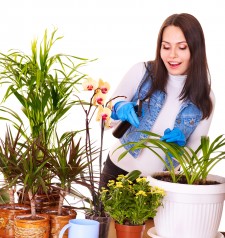 SANTA FE, N.M., October 3, 2017 (Newswire.com) - HomeGardenandHomestead.com has released its Fall/Holiday Season 2017 online guide to what's new and trending for homes and gardens. New for the fall and holiday seasons are fall yard and garden tools, new varieties of indoor plants, gifts for the home, gifts for gardeners, holiday season décor, eco-friendly deer control, backyard greenhouses, homestead and ranch products, and tips for a healthy home.
Also included in the fall and holiday content on Home Garden and Homestead are informational stories about home and garden topics including "Five Terrific Trees to Plant this Fall," from NatureHills.com, "One Good Tool Deserves Another," from CobraHead.com, and "Natural Fungus Gnat Control," from Summit Responsible Solutions.
"Fall is when temperatures cool off and we split our time between inside our homes and outdoors in our yards," said Randall D. Schultz, content editor for Home, Garden and Homestead. "As the holiday season approaches, our focus turns toward making our homes festive places to celebrate the holidays and stay comfortable during winter. So our stories for fall and holidays feature lots of late-season and indoor gardening ideas, gift ideas for home and garden, and festive holiday decorating. We want Home, Garden and Homestead to serve as an online destination that brings people closer to the lifestyle they want to live."
Featured in the new content on HomeGardenandHomestead.com are stories about new and cool products from American Meadows, Bird-X, Bison Pumps, CobraHead, Cozy Products, Exaco, EZ Lawn & Garden, Gothic Arch Greenhouses, Jackson & Perkins, Logee's Tropical Plants, Nature Hills Nursery, Park Seed, Power Planter, Repellex, Sloggers, Summit Responsible Solutions, Wayside Gardens and more.
Information for the Digital Age
HomeGardenandHomestead.com has been called "the guide to modern living in the digital age." The website's content includes new and unique home and garden products ranging from tools and technology to seasonally appropriate gifts, plants and decor.
"One of the ironies of the digital age is that millions of people want to get closer to a more natural, simpler way of life," said Schultz. "The modern home is a place where a family can enjoy all of the benefits of high-speed web access and also enjoy organic herbs harvested from a backyard greenhouse. It's an interesting melding of the old and the new."
Consumers are encouraged to read the information posted on the Home Garden and Homestead website and follow the links to the products that interest them. Media professionals can use Home, Garden and Homestead as an online resource where they can download editorial content and royalty-free photos. Editors, writers, producers and other media professionals can instantly download text and digital image files by simply clicking on the Media Room link at the top of the Home page and then selecting a story category from the left navigation list. All of the content on HomeGardenandHomestead.com is royalty and copyright free, and it can be used and disseminated by any editor, writer, blogger, producer or media person.
The Home, Garden and Homestead blog (http://homegardenandhomestead.com/blog) keeps visitors informed with new stories throughout the year about home and garden topics. Facebook users can also "like" the Facebook page at www.facebook.com/homegardenandhomestead to receive daily posts and updates.
For more information about HomeGardenandHomestead.com, contact Randall D. Schultz at info@homegardenandhomestead.com or 505-822-8222. 
Source: HomeGardenandHomestead.com
---
Categories: Gardens and Landscape, Country Living, Home
Tags: cobrahead, decor, garden, gifts, greenhouse, hills, holiday, home, homestead, nature, plants, tools
---