Home of Air Force One Chooses BALLISTIGLASS to Secure Visitor Center With Bulletproof Glass
Press Release
•
updated: Jan 12, 2021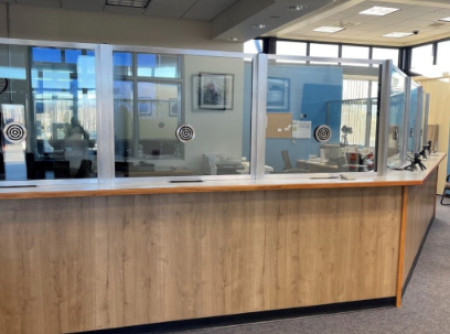 ANDREWS AFB, Md., January 12, 2021 (Newswire.com) - A shooting at a Naval Air Station in Florida led Andrews Air Force Base to collaborate with BALLISTIGLASS to secure employees and guests at their visitor center.
"Ballistiglass takes very seriously our nation's shared responsibility to keep members of the U.S. armed services safe. It was our honor to fortify the visitor center at Joint Base Andrews," said John Mehew, the CEO and Founder of BALLISTIGLASS.
The Dec. 6, 2019 shooting at Naval Air Station in Pensacola, Florida, was a turning point for Andrews Air Force Base. The base, located in Maryland, is home to two Boeing VC-25A aircraft that serve the President of the United States.
BALLISTIGLASS works with educational institutions and religious institutions, as well as government, non-profit and commercial sectors. BALLISTIGLASS is committed to providing a safe and secure environment for all.
"BALLISTIGLASS offers a unique suite of high-grade products that, when combined, will keep both carried weapons and discharged ammunition outside of your premises, where they belong. BallistiMAX bullet resistant glass keeps the ammunition out and BallistiSCAN low-profile weapons detection keeps the weapons out. It is our mission to protect you and those who are most important to you and your business!" said Lisa Black, Vice President of Business Development at BALLISTIGLASS.
The BALLISTIGLASS product BallistiMAX is a high-performance bullet-resistant glass complete with BallistiSHOCK countermeasure. BallistiMAX offers the highest-level protection against projectiles, spanning Underwriters Laboratory 752 Levels 1 through 8.
Source: BALLISTIGLASS