Ballistiglass Launches Free Loaner Program for Schools Facing Violence
Press Release
•
updated: May 17, 2021
Florida school security company will loan metal detecting devices for free. Any Florida school facing a threat can take advantage and get the $4,500 system at no cost.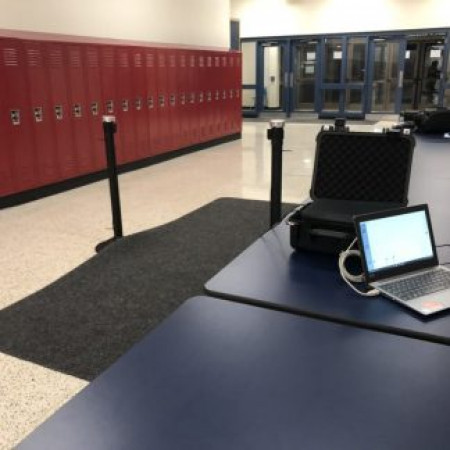 PARKLAND, Fla., May 17, 2021 (Newswire.com) - Over the years, schools have faced an increase in gun violence and explosive threats. Five months into 2021, schools in the United States have seen 29 incidents of gun violence. Just recently in Florida, an individual was arrested for threatening Lauderdale Lakes Middle School.
Based in Parkland and having donated bulletproof glass to Stoneman Douglas High School following the tragic events in 2018, Ballistiglass demonstrates its longstanding commitment to the safety of Florida schools by introducing a loaner program for its discreet metal detecting system, BallistiSCAN.
To ensure the safety of your institution following the recent gun violence and bomb threat in Lauderdale Lakes Middle School, if there is any indication of the threat of attack to your school, Ballistiglass will provide you with its low-profile metal detector unit via overnight shipping.
With several units set aside for the purpose, Ballistiglass' mission is to help keep your students and staff safe.
The metal detecting system, valued at $4,500, is available to any Florida school facing a threat for one week (or longer, depending on the circumstances), at no cost.
With the ability to detect rifles, handguns, knives, as well as e-cigarettes, the entire system is portable and can be set up anywhere within five minutes. BallistiSCAN is inconspicuous and discreet, with two hockey-puck-sized sensors that attach to stanchions.
The system's stealth appearance maintains a welcoming atmosphere as most people are unaware that they are passing through a metal detection system. Utilizing magnetic noise filters and advanced signal processing algorithms ensures that there are no false positives.
Steve Steinman, Vice President of Growth and Strategy said, "Being a Parkland-based company, Ballistiglass is keenly aware of the trauma that school violence or even a threat can cause. We wanted to create a no-cost program that allows Florida kids, parents and staff to feel a little more secure when their school is facing the risk of attack."
"Our community, schools and children deserve peace of mind and a safe atmosphere. If your school has received word of a threat, please contact us. The Ballistiglass team is more than happy to help."
For more information and inquiries, please get in touch with Ballistiglass at +1 (800) 960-4097.
Source: Ballistiglass