Hetal Parikh of Rangam Consultants Wins NJBIZ Best 50 Women in Business 2017 Award
Hetal Parikh, Founder and President of Rangam Consultants Inc., adds another laurel to her justly earned prominence in the local business landscape.
Press Release
-
updated: Mar 21, 2017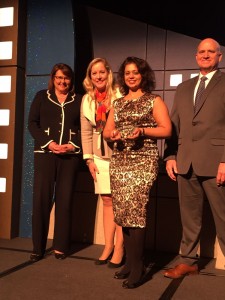 Somerset, New Jersey, March 21, 2017 (Newswire.com) - ​​Hetal Parikh, winner of 2016 SmartCEO Future 50 Awards, 2015 Enterprising Women Awards, and 2014 International Women's Entrepreneurial Challenge Award, is one of the honorees in the 2017 edition of NJBIZ Best 50 Women in Business awards program that recognizes New Jersey's "most dynamic business women who are making headlines in their field."
Held at The Palace at Somerset Park on March 20, 2017, the awards gala was attended by a host of senior executives and the who's who of New Jersey's top companies. Hetal was accompanied by Geetanjali Moorjani, VP of Operations and Talent Acquisition at Rangam and Tracey J. Andrus, VP of Business Development at Rangam.
The winners were selected following an open call for nominations that were subsequently examined by judges. Each nominee was evaluated on their career accomplishments, leadership, vision, community services, and mentorship activities.
"We all love New Jersey and I'm thankful to NJBIZ and the sponsors for this prestigious recognition," Hetal said, reiterating that Rangam, as a certified WMBE, will continue to support the region's women entrepreneurs through peer-to-peer networking and mentorship. Notably, Hetal mentors women in STEM at DeVry University and actively participates in supplier diversity programs to accelerate the growth of small- to mid-sized businesses in NJ and beyond.
Promoting affirmative employment nationwide is one of Rangam's core business principles. The organization has partnered with Autism Speaks to create employment opportunities for the differently-abled population. Additionally, the collaboration between Rangam and ViaQuest has led to the development of an employment portal for separating military service men and women, veterans, reservists and military family members seeking civilian jobs.
Nish Parikh, Co-founder and CEO of Rangam Consultants, won the NJBIZ Innovation Hero award last year in recognition of his work for individuals with autism and related conditions.
About Rangam Consultants Inc.
Established in 1995, Rangam is a high-performing diverse supplier of enterprise-wide staffing services in IT, Clinical, Scientific, Healthcare, Engineering, Government, Finance and Administrative sectors. Rangam is a certified WMBE that has consistently grown year over year while establishing a history of providing exceptional service to clients. We pride ourselves for developing a culture of inclusion and collaboration through innovation in education and employment.
Rangam improves the quality of life for our candidates while providing exceptional service to our clients. We do this by delivering an integrated recruitment solution that combines technology, training, and education to our candidates while providing our clients with a large, diverse network of qualified personnel options. We adhere to a philosophy of "empathy drives innovation" in everything we do. To learn more, visit https://www.rangam.com.
Source: Rangam Consultants Inc.
---
Categories: Business News, Regional Business News, Community News, Diversity, Staffing, Awards
Tags: affirmative employment, diversity and inclusion, New Jersey business awards, NJBIZ Best 50 Women in Business, Rangam Consultants Inc., staffing, STEM, women entrepreneurs
---