Hetal Parikh of Rangam Consultants, Inc. Wins the 2018 WPEO-NY Star Award
Hetal Parikh, President of Rangam Consultants, Inc., reaches yet another key milestone in her illustrious career as a diverse workforce leader.
Press Release
-
updated: Mar 19, 2018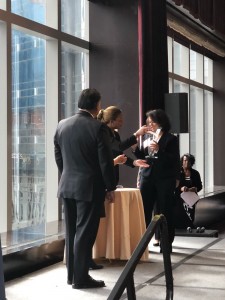 SOMERSET, N.J., March 13, 2018 (Newswire.com) - Hetal Parikh on Friday, March 9 received the 2018 WPEO-NY Star Award for her active involvement with the Women Presidents' Educational Organization (WPEO), advocacy for women in business, and contribution to driving the development of innovative and efficient solutions in operations and delivery.
Held at the Mandarin Oriental in New York City, the WPEO Annual Awards Breakfast ceremony was attended by representatives from WBENC-certified women business enterprises (WBEs), corporate buyers, and supplier diversity professionals. The WPEO Awards are given to individuals and organizations that advance WPEO's mission to promote educational opportunities for aspiring businesswomen and accelerate the growth of WBEs. Hetal will head to Dallas to receive the WBENC Business Star award at WBENC's annual Summit & Salute event on March 20-22.
Through dynamic and proactive leadership, Hetal has established strong ties to other WBEs. She regularly attends WPEO events and programs; provides mentorship support to all of her WBE peers; and offers invaluable insights into building relationships, staying cost-effective, negotiating contracts, and reviewing new technologies. An immigrant who has succeeded in expanding her business globally, Hetal is a source of inspiration to many Asian business leaders in the region. Today, Rangam is among the best in providing talent acquisition and consulting support to Fortune 500 corporations for their temporary as well as permanent staffing needs.
Rangam's contingent staffing model is instrumental in reducing operational overheads for corporations. In 2016-17, Rangam's approach accounted for 7% of direct savings for one of its global life sciences clients. Moreover, the client reported high retention and low turnover as a result of contingent worker satisfaction.
"I thank WPEO and WBENC, along with my WBE peers, for honoring me," Hetal said. "It was wonderful to hear @JayneMillard speak on the Changes and Opportunities on the Horizon at the @WPEONYDC Annual Awards Breakfast last Friday. Congratulations to all the winners and the corporations," she tweeted.
About Rangam
Established in 1995, Rangam is a high-performing diverse supplier of enterprise-wide staffing services in IT, Clinical, Scientific, Healthcare, Engineering, Government, Finance, and Administrative sectors. Rangam is a certified WMBE that has consistently grown year over year while establishing a history of providing exceptional service to clients. We pride ourselves for developing a culture of inclusion and collaboration through innovation in special education, disability hiring, and reemployment of veterans.
We at Rangam improve the quality of life for our candidates while providing exceptional service to our clients. We do this by delivering an integrated recruitment solution that combines technology, training, and education to our candidates while providing our clients with a large, diverse network of qualified personnel options. We adhere to a philosophy of "empathy drives innovation" in everything we do.
For more information, please visit https://www.rangam.com.
Source: Rangam Consultants, Inc.
Share:
---
Categories: Staffing
Tags: Contingent Staffing, New York Business News, Rangam, Supplier Diversity, Talent Acquisition, WBE, WBENC, Women in Business, Women Presidents' Educational Organization, WPEO-NY Star Award 2018
---