Analysts Expect an Economic Boom in 2021, and PressRelease.com is Helping Businesses Capture More Traffic, Leads
Press Release
-
updated: Apr 20, 2021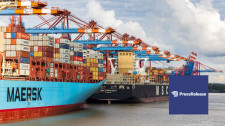 SARASOTA, Fla., April 20, 2021 (Newswire.com) - According to the Livingston Survey, the U.S. economy is headed towards an economic boom, coupled with a steadily decreasing unemployment rate. Economic experts and the team at PressRelease.com believe organizations should both prepare and take advantage of a potential surge in business. PressRelease.com provides easy and affordable press release distribution services for small and midsize businesses looking to optimize their spending while supporting their organization's media and marketing efforts.
"With press release distribution, organizations can build trust and credibility for themselves by publishing their news on key business networks," according to Erik Rohrmann, COO at PressRelease.com. "It's a good time for companies to begin positioning themselves and make themselves more known to the public, as there will be a lot of organizations competing for attention when business returns to normal."
The Livingston Survey projects 2.9% annualized growth over the first half of 2021 and a 3.7% growth rate in the second half of the year; they forecast a declining unemployment rate from 6.7% to 5.5 by December 2021. With press release distribution, organizations can get published on reputable business networks, helping to build a sense of trust and authenticity; for newer organizations, building relationships is essential, and trust helps to reduce friction in the customer experience. 
The Livingston Survey was started in 1946 and is the oldest continuous survey of economists' expectations. According to The Federal Reserve Bank of Philadelphia, who took responsibility for the survey in 1990, "It summarizes the forecasts of economists from industry, government, banking, and academia." 
PressRelease.com connects its customers with industry media professionals and audiences around the world through its award-winning press release distribution services. Clients can build trust with the public and grow their brand using PressRelease.com's comprehensive distribution network and publish company news on prominent business networks like MarketWatch, Bloomberg, Yahoo! Finance, Morningstar, CBS, ABC, FOX, and NBC.
PressRelease.com helps CEOs and business leaders improve their targeting and reach via simple and effective press release distribution services. To learn more about how to create newfound value through press release content, visit PressRelease.com.
About PressRelease.com
PressRelease.com provides simple, affordable press release distribution services to public and private companies through the most comprehensive networks and 1.8M media contacts.
Contact Information:
PressRelease.com
Media Relations
Office: 800-998-2927
Source: PressRelease.com
Share:
---
Categories: Business News
Tags: pr, press release, pressrelease
---