Hello Chicago - Groceries From Different Continents Delivered at Home!
Press Release
-
updated: Apr 6, 2018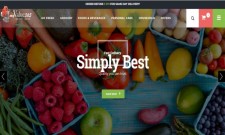 CHICAGO, April 6, 2018 (PressRelease.com) - MyValue365, a Chicago based online grocery store, has carved a niche marketplace for itself in International groceries, creating quite a buzz amongst both customers and local grocers in Chicago. This portal is created to bring special international groceries within digital reach by aggregating retail outlets and creating a fun shopping experience for consumers.
It endeavors to set new benchmarks in e-commerce by bringing different groceries from different parts of the world to one place. It subsumes over 15,000 brands and products in its catalog comprising of various international groceries from the markets of India, China, Spain, Japan, Middle-East, and Mexico. It is a hassle-free platform which streamlines the interaction with retailers, creating a satisfying shopping experience for customers while putting money back into their pockets. It's no wonder that 8 out of every 10 customers that made their first purchase on the MyValue365 website, came back to shop again.
MyValue365 has automated the entire supply chain process. Right from fresh fruits, vegetables, rice, pulses, spices, and seasonings to packaged bread, bakery, and dairy products, it ensures continuous availability of all international groceries for its consumers.
In the present era, where giant business houses are focussing on building large warehouses, MyValue365 focuses on building a community together. All retailers urge themselves a marked appearance in this fast-growing economy. Myvalue365 extends an opportunity to provide all the ambitious businessmen, households and local grocers a digital platform to develop their business.  It primarily focuses on giving the local stores an online reach, establishing their brands, utilizing the resources available more effectively and efficiently and thereby generating more employment opportunities within this grocery e-commerce sector.
With this online grocery store, all the desired flavors from international markets are just a click away. So, don't wait, browse the website, pick the perfect ingredients and start bragging to your family and friends. Be the MasterChef you were always meant to be!
Go to www.myvalue365.com.
Contact
Phone: 773-708-3342
Email ID: info@myvalue365.com
Address: 1400 N Lakeshore Drive, Chicago, IL 60610
---
Categories: e-Commerce
Tags: Free & Same Day Grocery Delivery, International Grocery Delivery, Online African Grocery Delivery, Online Chinese Grocery Delivery, Online European Grocery Delivery, Online Grocery Delivery, Online Indian Grocery Delivery, Online Italian Grocery Delivery, Online Mexican Grocery Delivery, Online South Asian Grocery Delivery, Subscription Free Grocery Delivery
---