HeadBox is Providing a Platform for Brisbane Venues to Get in Front of Valuable Corporate Bookers
Press Release
•
Mar 13, 2023
As HeadBox takes on a wave of new corporate clients and events this year, venues listed on the platform can rest assured that their venues are being put forward for the events they want.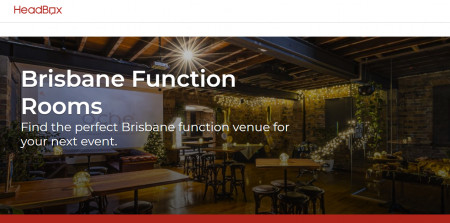 BRISBANE, Australia, March 13, 2023 (Newswire.com) - Leading event tech platform HeadBox has a team of event professionals who work with function venues Brisbane-wide to get them in front of the bookers they want. The in-house event planning team works closely with venues to understand the type of events they're after, providing them with additional exposure to an extensive corporate database.
Connecting corporate bookers with unique and inspiring venue hires Brisbane-wide, HeadBox aims to make event planning as simple and stress-free as possible for businesses by providing a comprehensive platform that streamlines the booking process.
According to HeadBox, one of the biggest advantages of using the platform for bookers is the sheer variety of venues available. From modern, purpose-built conference centres to historic buildings with unique architectural features, there is something for every type of event. This means that corporate bookers can find a venue that truly reflects their brand and values, helping to create an event that is both memorable and meaningful.
HeadBox also provides a number of tools to help corporate bookers find the perfect function room Brisbane-wide for their needs, including detailed descriptions of each venue, as well as high-quality images that give a sense of the space and atmosphere. The platform allows bookers to filter venues by location, capacity and price, making it easy to find options that fit their specific requirements.
Providing support for bookers throughout the event planning process, HeadBox has an in-house team of event professionals who work with bookers to ensure perfect execution of the event. From the big picture to the finer details, HeadBox will ensure event outcomes are met and all expectations are exceeded.
A valuable platform for function rooms Brisbane-wide to connect with corporate bookers, HeadBox is the go-to for corporate event planning. To learn more about function rooms hire Brisbane-wide, venues and corporate bookers can visit HeadBox online.
Source: HeadBox