HawkEye 360 Brings Dennis Burnett on as EVP and General Counsel
Press Release
•
updated: Mar 11, 2020
Burnett Joins with Decades of Experience Advising Space and Technology Companies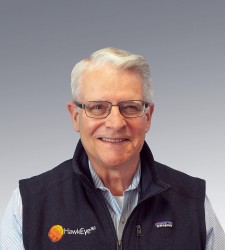 HERNDON, Va., March 11, 2020 (Newswire.com) - ​HawkEye 360 Inc., the first commercial company to use formation flying satellites to create a new class of radio frequency (RF) data and data analytics, today announced that Dennis Burnett has joined the company as Executive Vice President (EVP) and General Counsel. Burnett joins HawkEye 360 with several decades of experience advising high-growth domestic and international space and technology companies in transactional, regulatory and national security matters.
"Dennis has molded legal strategy for many complex technologies and space-based solutions," said John Serafini, Chief Executive Officer, HawkEye 360. "His insight will prove invaluable as HawkEye 360 continues to break new ground providing commercial RF signal data and data analytics from space."
Previously, Burnett served as Consulting Principal at LMI Advisors; Chief Counsel of Regulatory and Government Affairs at Kymeta Corporation; and as Vice President of Trade Policy and Export Control for EADS North America. Burnett also currently serves as the Director and Treasurer of the International Institute of Space Law and as the Chair of the Space, Cyber and Telecommunications Advisory Board for the University of Nebraska College of Law.
"I am extremely pleased to contribute to the HawkEye 360 team as we forge a new commercial frontier in space," Burnett said. "The wave of new small satellite technology is revolutionizing commercial, scientific and defense applications in the space domain, and I feel blessed to be working among the leaders in this industry."
Dennis is a graduate of Nebraska Wesleyan University, the University of Nebraska College of Law and the Georgetown University College of Law.
More information about HawkEye 360 can be found at www.he360.com.
About HawkEye 360
HawkEye 360 is a Radio Frequency (RF) data analytics company. We operate a first-of-its-kind commercial satellite constellation to identify, process, and geolocate a broad set of RF signals. We extract value from this unique data through proprietary algorithms, fusing it with other sources to create powerful analytical products that solve hard challenges for our global customers. Our products include maritime domain awareness and spectrum mapping and monitoring; our customers include a wide range of commercial, government and international entities.
Media Contact
​Adam Bennett
Product Marketing Director
​adam@he360.com
​+1 (571) 203-0360​​
Source: HawkEye 360