Have You French Kissed a Cow Today? Answer Could Be Yes
Recent research supports notion that consumers accept a higher price for a product when they are informed of higher quality. Devault Foods wants customers to understand their higher standard for ground meat products.
Press Release
-
updated: Jun 6, 2017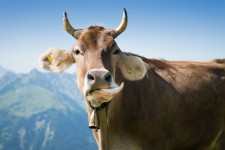 Devault, Pennsylvania, June 6, 2017 (Newswire.com) - Earlier this year at the North American Meat Institute (NAMI) Convention and Trade Show, a comment from a panel speaker inspired journalist Tom Johnston from Meatingplace Magazine to stir up a revealing conversation about what IS and what IS NOT allowed in ground meat and hamburger. This conversation logically leads to a discussion of transparency, consumer labeling and maintaining a fair competitive playing field. There are, however, many in the Industry who would like to herd these discussions back into the proverbial corral. Those are the players who want you in the dark while you spin-the-bottle for a possible bovine smooch.
To put this conversation in context, in August 2016 the USDA reversed its original Policy Memo #027, created in 1982, which stated that 'heart, tongue and cheek meat are not acceptable in chopped beef, ground beef, or hamburger.'  With the reversal of this ruling, the manufacturers' guideline now allows for the blending of these items, perhaps resulting in a lower cost of goods. As the conversation on disclosure evolves, the industry needs to address the lack of guidelines and enforcement of pathogen testing on bench trimmings — specifically that some manufacturers feel that it is OK to use bench trimmings without proper testing in burgers and ground beef.
The industry is subject to guidelines related to pathogen reduction with specific testing for E. coli, which is a good thing. The USDA requires manufacturers to implement a Hazard Analysis and Critical Control Point Systems (HACCP) plan to ensure that adulterated portions (i.e. untested bench trimmings) cannot find a way into ground products. The use of untested bench trimmings is not consistent with best practices and could ultimately lead to risky recalls or, at worst, consumer illness. To have safe products and fair competitive-market pricing, it is important to open this discussion.  As a result of this ruling and circumspect business practices, consumers are now unknowingly presented with products that may contain unwanted cuts of meat with no required labeling on the package and perhaps misled by a lower pricing.
Without the creation of specific criteria for labeling and enforcement of the criteria, there remains an ambiguous (and, one could argue, unethical) marketplace for ground meat. Using less costly cuts, such as tongue and heart muscle, as well as untested bench trimmings, some manufactures of ground meat products may deceive consumers. In a 2016 survey by the Consumer Reports National Research Center, they found that label information does affect purchasing decisions and that consumers are willing to pay more for meat and poultry when they understand the difference in quality.  Some consumers find cow tongue a delicious delicacy; however, not everyone may find this as a welcome addition to their burger.
While some other manufacturers continue to use these practices in order to put products into the marketplace at lower prices and perhaps deceiving customers, Devault Foods continues to embrace a commitment to exceptional quality, safety and taste. Devault Foods will never use offal or un-tested bench trimmings in the production of our ground beef items.  Ask your Distributor, Sales Representative or Meat Counter Attendant to identify what you are purchasing. Of course, if you are still in doubt, ask: "Is this a Devault Foods product?" 
# # #
Devault Foods is built upon seven (7) decades of the Fillippo family's experience.  The heritage includes cattle farmers, butchers and, recently, leaders in the food service industry. Devault Foods is unrivaled in operational excellence and a market leader in portion-controlled meat packaging. Today, Devault Foods is focused on current trends and the future needs of the marketplace. Commitment to quality and excellence goes beyond industry standards and provides a platform to deliver exceptional products well into the future. For more information, please visit www.devaultfoods.com.
Source: Devault Foods
Share:
---
Categories: Food and Beverage Manufacturing, Food and Beverage Services, Restaurants, Bars, and Catering
Tags: Ground meat, labels, manufacturing standards, quality
---