Hastings & Hastings Speaks Out on Pedestrian Safety
Hastings & Hastings is passionate about safety. With spring just around the corner, the weather in Phoenix is soon to turn pristine. With wonderful weather comes an increase in pedestrian activity. Hastings & Hastings hopes everyone stay nice and safe as they stroll through the city. Hastings & Hastings speaks out on pedestrian safety.
Press Release
-
Feb 11, 2016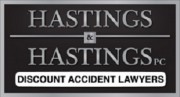 Phoenix, AZ, February 11, 2016 (Newswire.com) - On average, some 4,000 individuals are killed each year in pedestrian accidents near roadways. Walking can be particularly dangerous for children ages 5-19 as unintentional pedestrian injuries are the fifth leading cause of injury-related death for that age group. Conversely, adults above the age of 65 account for 20 percent of pedestrian deaths. To Hastings & Hastings this clearly illustrates that pedestrians are at risk if they do not follow proper safety protocols.
Pedestrians are most at risk when traveling at night. To minimize the danger Hastings & Hastings advises them to maximize their visibility. This means wearing bright, reflective clothing and staying  in well-lit areas. As an additional precaution, pedestrians should carry a flashlight. Further, pedestrians should never cross the street at night except in designated crossing areas. Finally, Hastings & Hastings notes, it is important that pedestrians stick to the sidewalk.
The Center for Disease Control and Prevent conducts research programs and activities aimed at helping reduce the frequency of pedestrian accidents.
Unfortunately, even when ever safety precaution is taken, accidents do happen. Hastings & Hastings has been fighting for the rights of accident victims or over 35 years. They know how traumatic, stressful and draining it can be to experience a pedestrian accident. Hastings & Hastings' experienced attorneys handle the crucial steps in preserving and advancing an accident claim, so that the victims can focus on recovery.
"Pedestrian accidents can devastating. It is vitally important that accident victims secure adequate representation if they are filling a personal injury claim. Here at Hastings & Hastings we have over 35 years of experience practicing in the personal injury field. Our experience and knowledge are placed at your full disposal. We are here for you," said David Hastings, the founder of Hastings & Hastings.
About Hastings & Hastings
Hastings & Hastings is an Arizona consumer law firm. We are an experienced trial law firm that represents personal injury and wrongful death victims at a Discount Fee.
Contact Information
Kristy Guell
(480) 706-1100
kristy.guell@hastingsandhastings.com
http://hastingsandhastings.com
Share:
---
Categories: Law Firms, Law Suits, Accidents
Tags: accident injury lawyers phoenix, lawyers phoenix, phoenix accident lawyers, phoenix personal injury attorny
---