Hastings & Hastings Speaks Out Against Drinking and Driving
Press Release
•
Nov 11, 2015
Hastings & Hastings knows better than most, driving can be extremely dangerous. They have seen more accident victims over the last thirty year than most people in the Valley of the Sun. They have seen the tragic consequences car accidents can hold. Hastings & Hastings would like nothing better than to see car accidents disappear forever, and they believe they know a good place to start.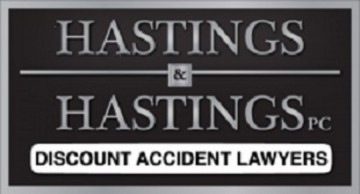 Phoenix, AZ, November 11, 2015 (Newswire.com) - ​Over 38 percent of fatal car crashes involve an intoxicated driver. Driving while intoxicated not only increases the odds of an accident occurring, it almost always increases the severity of the accident as well. Hastings & Hastings acknowledges that there is almost nothing more dangerous than an intoxicated driver.
Anyone can be a drunk driver, however statistics have shown that over a third of offenders are between the ages of 21 and 24. A further third of offenders fall between the ages of 25 and 34. Younger drivers are more inclined to drink and drive. Hastings & Hastings supports the proper education of young drivers on the consequences of drinking and driving. Hastings & Hastings would like to believe that with proper education, young drivers will be less inclined to drink and drive.
For drivers under the age of 21, there is a zero tolerance policy for drinking and driving. This means that no level of intoxication is acceptable. For drivers over the age of 21, the blood alcohol limit is .08 percent. Anything beyond .08 percent is legally considered intoxicated, however drivers can be considered intoxicated for blood alcohol levels below .08 percent as well. Intoxication is assessed on a driver to diver basis.
Hastings & Hastings believes that personal responsibility is the best tool drivers can use to combat drinking and driving. If drivers make it a commitment to themselves to never drink and drive, they will be taking a powerful step towards creating a safer world for everyone. If individuals know they are going to be drinking, they should arrange transportation ahead of time. Nominate a designated driver. If designated drivers are not available, individuals can call a taxi, or arrange for an Uber. The cost of transportation is nothing compared to the cost of an individual losing their life in a drinking and driving accident.
About Hastings & Hastings
Hastings & Hastings is an Arizona consumer law firm. We are an experienced trial law firm that represents personal injury and wrongful death victims at a Discount Fee.
Contact Information
Kristy Guell
(480) 706-1100
kristy.guell@hastingsandhastings.com
http://hastingsandhastings.com