Hastings & Hastings, Proud of Its Sterling Reputation
Press Release
•
Apr 25, 2016
- Phoenix has grown into one of the largest cities in the nation. According to the most recent census data, Phoenix currently ranks as the 6th largest city in the United States of America in terms of population. Despite its size, Phoenix is home to a tightly knit community. In a tightly knit community, reputation is everything. For this reason, Hastings & Hastings has always placed a premium on maintaining an excellent reputation in the Phoenix community.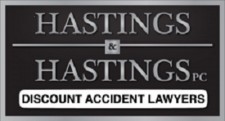 Phoenix, AZ, April 25, 2016 (Newswire.com) - Hastings & Hastings, founded by Dave Hastings, has been defending the rights of accident victims in Phoenix for over 35 years. A great reputation takes time to build, and Hastings & Hastings has more than put in the time.
When it comes to reputation, success matters. Negatives spread faster than positives. It is more difficult to establish a good reputation than it is to establish a negative reputation. Hastings & Hastings has worked hard to create the relationship it currently maintains. Hastings & Hastings has established its reputation by diligently and tirelessly representing its clients and by constantly fighting for justice. Hastings & Hastings handles each and every case with dignity and respect.
Hastings & Hastings' business thrives on referrals, which they believe to be the surest sign of a good reputation. Accident victims who have been represented by Hastings & Hastings often choose Hastings & Hastings because of word of mouth.
One of the reasons Hastings & Hastings enjoys such an excellent reputation in Phoenix is the commitment of the firm to saving its clients money. When Dave Hastings founded Hastings & Hastings, he also invented his Discount Accident Fee. A typical accident attorney will charge their clients 33%-40% of the value of the settlement for representation. Dave believed that this was too much. He believed that accident victims, who are the ones that suffered that hardship, had the right to the majority of any financial compensation. Hastings & Hastings reputation has been spreading ever since.
"Without reputation, we have nothing. A great reputation has incredible value. A great reputation shows that you are doing a good job, that you have value, and that you are appreciated by the community. At Hastings & Hastings, we don't want reputation to be an empty thing. We want it to be backed up by excellent representation and quality service," said David Hastings, the founder of Hastings & Hastings.
About Hastings & Hastings
Hastings & Hastings is an Arizona consumer law firm. We are an experienced trial law firm that represents personal injury and wrongful death victims at a Discount Fee.
Contact Information
Kristy Guell
(480) 706-1100
kristy.guell@hastingsandhastings.com
http://hastingsandhastings.com