Hastings & Hastings Offers Families Advice on Building an Annual Budget
Life is full of unexpected twists and turns and surprises. Confronting these little bombshells can be difficult, especially if it means eating away into the family's savings. That is, if the family even has savings. Creating an annual budget can help families prepare for the unexpected. It is one of the best ways for individuals to become a master of their own finances. Hastings & Hastings offers advice on building and sticking to an annual budget.
Press Release
-
Feb 5, 2016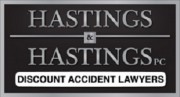 Phoenix, AZ, February 5, 2016 (Newswire.com) - The first step in building an annual family budget should be gathering the entire family together. Every cost must be accounted for, this means account for each and every individual in the family.
Next, the family needs to make a list of all of their essential expenses. These should include a place to live, food, and transportation. Rent or a mortgage is often the most expensive item on the budge. Costs associated with it need to be account for. This include essential utilities such as electricity. Internet is often considered an essential expense. When estimating these costs, Hastings & Hastings notes that it is best to overestimate expenses rather than to underestimate them. It is much better to have a budget surplus at the end of the year than a budget deficit.
The United States Department of Agriculture estimates that a family of four with moderate food costs will spend $12,775 over the course of a year. This is another essential expense. Depending on the size of the family or their particular eating habits, this number can rise or fall.
Transportation is often considered another essential expense. On average, families who own a car can expect to spend $9,000 annual on car payments, insurance, maintenance, and gas. Other transportation costs may come from using public transportation.
Once essentials have been factored into a budget, families can begin allocating remaining funds into discretionary areas.
"I have always thought that starting the year off right meant creating an annual budget. It can keep you safe and comfortable. You can't predict everything that is going to happen over the course of a year, but with a tight, smart budget, you can do your best," said David Hastings, the founder of Hastings & Hastings.
About Hastings & Hastings
Hastings & Hastings is an Arizona consumer law firm. We are an experienced trial law firm that represents personal injury and wrongful death victims at a Discount Fee.
Contact Information
Kristy Guell
(480) 706-1100
kristy.guell@hastingsandhastings.com
http://hastingsandhastings.com
Share:
---
Categories: Law Firms, Lawyers, Law Suits
Tags: accident injury lawyers phoenix, lawyers phoenix, phoenix accident lawyers, phoenix personal injury attorny
---