Hastings & Hastings Offers Essential Insurance Tips
Press Release
•
Apr 19, 2016
It is everyone's legal duty to carry insurance when they are driving. Everyone must be held accountable for this. Hastings & Hastings notes, under Arizona law, drivers are required to carry bodily liability insurance worth $15,000 per person or $30,000 per accident in which more than one person suffers injury. Additionally, they must carry $10,000 of coverage for property damage. This coverage must be offered by an insurance provider authorized to do business here in Arizona.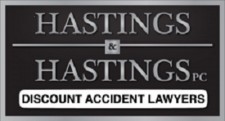 Phoenix, AZ, April 19, 2016 (Newswire.com) - Of course, opting for the bare minimum coverage will put drivers at risk. Hastings & Hastings recommends that every individual look closely at their situation when determining what coverages are right for them. They should factor in their budget, their lifestyle, their vehicle, where they live, and any other factors they can think of.
Hastings & Hastings offers an example – If an individual already carries an excellent health insurance policy, they may not need to pay for medical payments coverage on their insurance policy as well. The best thing policyholders can do is open a dialog with their insurance provider. The more they know, the better equipped they will be to make good decisions.
Hastings & Hastings notes that drivers should familiarize themselves with the differences between liability, collision, and comprehensive coverage as well. Liability pays for accident damages to an accident victim's vehicle/person, to a limit, when the policy holder is at fault. Collision coverage pays for damage the policy holder's vehicle suffers from a collision with another vehicle, an object, or as a result of a rollover. Compressive coverage protects a policyholder from any non-collision related damage. Examples of what is covered by comprehensive coverage include fires, theft, vandalism, earthquakes, and floods.
"Insurance is a very complicated thing. When you are talking to an insurance adjuster, it almost sounds like they are speaking their own language. They use so many specialized terms and phrases. Here at Hastings & Hastings, we have spent decades dealing closely with insurance companies. It is part of the territory as a personal injury law firm. We are here to help anyone who is lost and confused dealing with their insurance company following an accident," said David Hastings, the founder of Hastings & Hastings.
About Hastings & Hastings
Hastings & Hastings is an Arizona consumer law firm. We are an experienced trial law firm that represents personal injury and wrongful death victims at a Discount Fee.
Contact Information
Kristy Guell
(480) 706-1100
kristy.guell@hastingsandhastings.com
http://hastingsandhastings.com
Source: Hastings and Hastings