Hastings & Hastings Offers Crucial Post-Accident Survival Guide
Press Release
•
Apr 8, 2016
Hastings & Hastings, Arizona's Premier Discount Accident Lawyers have been defending the rights of accident victims in the Valley of the Sun for over 35 years. Their experienced legal team has 150 years of combined experience handling accident related cases. In the last nine years, their Discount Fee has saved clients over $14,000,000.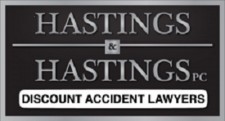 Phoenix, AZ, April 8, 2016 (Newswire.com) - As part of their ongoing commitment to community service, Hastings & Hastings offers their crucial post-accident survival guide to help accident victims protect their rights following a car accident.
Hastings & Hastings notes, the number one priority for any individual following an automobile accident should be their health and wellbeing. If they are not fully able, they should not take any of the following steps. Rather, they should wait for help and stay safe.
If individuals are safe and able, they should first move their vehicle to the side of the road if it is still operational and safe. Remaining in traffic creates a hazardous situation.
As soon as they are able, individuals should call 911. It is important to involve the authorities regardless of the severity of the accident. Policy reports and proper documentation play an important role in legal proceedings. Hastings & Hastings advises against "being the nice guy," and attempting to resolve the accident without police involvement.
It is further advisable to photograph the scene of the accident if it is safe to do so. Hastings & Hastings notes that wide shots of the entire accident scene and close shots of the damage and other details are both important.
If there are witnesses, it is wise to get statements and receive contact information. The more evidence accident victims have supporting their interpretation of events, the better.
Finally, it is important to seek medical attention even if an accident victim does not believe they have sustained a major injury. Often, accident related injuries take hours or even days to present themselves. It is also important to have proper documentation of all health related matters.
"The two most important things to do following an accident are to protect your health and your rights. The best thing you can do is to contact an attorney who is experienced in accident related matters as soon as possible. They can be your guide through these difficult times," said David Hastings, the founder of Hastings & Hastings.
About Hastings & Hastings
Hastings & Hastings is an Arizona consumer law firm. We are an experienced trial law firm that represents personal injury and wrongful death victims at a Discount Fee.
Contact Information
Kristy Guell
(480) 706-1100
kristy.guell@hastingsandhastings.com
http://hastingsandhastings.com