Hastings & Hastings Educates on Effective Anti-Theft Devices
The most recent data regarding car thefts in the United States was compiled by the Federal Bureau of Investigations in 2013. According to these statistics, 699,594 motor vehicles were stolen in the year 2013. The value of these stolen vehicles totaled nearly $4.5 billion. The FBI further breaks these statistics in order to put them into context. One vehicle is stolen in the United States every 44 seconds.
Press Release
-
Jan 6, 2016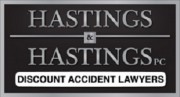 Phoenix, AZ, January 6, 2016 (Newswire.com) - Hastings & Hastings note that the data supplied by the FBI and LoJack states that 80 percent of individuals who reported having their vehicles stolen also reported that they never left their vehicle unlocked. Intrepid car thieves use high-tech modern techniques to gain access to locked cars without utilizing force. Hastings & Hastings further notes, one of the best ways to combat this, is through the use of anti-theft devices.
Popular anti-theft devices include electronic immobilizers and kill switches. Electronic immobilizers come standard with most modern vehicles. Vehicles feature built in transponders which communicate with a key fob via microchip. Without a signal from the key fob, the electronic systems of the car will be unable to start. Kill switches function similarly to electronic immobilizers, differing in that they deactivate the fuel or starter system rather than the vehicles electronic systems.
Car alarms are a popular alternative or compliment to anti-theft devices such as electronic immobilizers and kill switches. Rather than disabling the vehicle, car alarms use a loud, klaxon call to draw attention to potential car thieves when they are in the act of committing a burglary. They are most effective when used in conjunction with other anti-theft devices or systems. Hastings & Hastings notes that it is best for anti-theft devices to be wired to an auxiliary or backup battery to prevent a thief from disabling them.
"One of the best ways to prevent your car from being stolen is to utilize multiple layers of protection.  If you are serious about preventing car theft, you can use a car alarm, an anti-theft device, and have a vehicle tracking system installed," said David Hastings, the founder of Hastings & Hastings. 
About Hastings & Hastings
Hastings & Hastings is an Arizona consumer law firm. We are an experienced trial law firm that represents personal injury and wrongful death victims at a Discount Fee.
Contact Information
Kristy Guell
(480) 706-1100
kristy.guell@hastingsandhastings.com
http://hastingsandhastings.com
Share:
---
Categories: Law Firms, Lawyers, Accidents
Tags: accident injury lawyers phoenix, lawyers phoenix, phoenix accident lawyers, phoenix personal injury attorny
---