Hastings & Hastings Advises on What to Do Following an Accident
Press Release
•
Apr 11, 2016
Hastings & Hastings knows experiencing an accident can be one of the most stressful and difficult things an individual will go through in their life. Often, accident victims have no idea what they should do after being involved in an accident.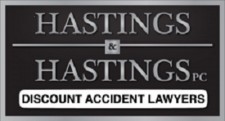 Phoenix, AZ, April 11, 2016 (Newswire.com) - Hastings & Hastings believes that accident victims should have someone on their side. Someone who will fight for their rights and who can help them navigate the complex matters following an accident. With over 35 years serving accident victims in the Arizona, has spent decades learning about the best courses of action to take following an accident. Hastings & Hastings advises taking the following steps:
1. Accident victims should look out for their own personal wellbeing. There is nothing more important than health. Before accident victims do anything else, they should make sure they are not significantly injured.
2. After looking after their health, accident victims should contact the authorities. It is important to have the police involved even in minor accidents. Documentation such as police reports is crucial. They hold a great deal of weight in court.
3. If the scene of the accident is safe, accident victims should take photographs. They should take both wide angle photos of the entire scene, and close photos of any relevant details such as damage or tire tracks.
4. Next, accident victims should attempt to speak with any witness. Redundancies in documentation will serve to strengthen a case. Accident victims should write down the names and contact information of any witness willing to offer that information.
5. Finally, it is important to seek medical attention even if accident victims do not believe they have suffered any major injuries. Again medical documentation is very important. Victims need to be prepared if injury symptoms manifest themselves hours or even days following the accident.
"I always tell accident victims that the best thing they can do for themselves is to contact an experienced accident attorney. Accident attorneys deal with these things all the time. They know exactly what to do. They know how to get the most out of a case and how to defend the rights of accident victims," said David Hastings, the founder of Hastings & Hastings.
About Hastings & Hastings
Hastings & Hastings is an Arizona consumer law firm. We are an experienced trial law firm that represents personal injury and wrongful death victims at a Discount Fee.
Contact Information
Kristy Guell
(480) 706-1100
kristy.guell@hastingsandhastings.com
http://hastingsandhastings.com