Hastings and Hastings Speaks on Dog Bites
Press Release
•
May 11, 2016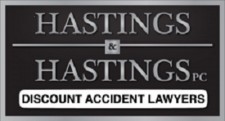 Phoenix, AZ, May 11, 2016 (Newswire.com) - According to the Center for Disease Control and Prevention, approximately 4.7 million individuals a year are the victims of a dog bite. The severity of these dog bites ranges from minor to fatal. Dog bites can happen to anyone although children are most at risk. 72 percent of fatal dog bite victims are children. Hastings and Hastings, Arizona's Premier Discount Accident Lawyers, has been defending the rights of accident victims in Arizona for almost four decades. Dog bites can cause pain and suffering which may last a lifetime. Dog bite victims are advised to contact a legal professional to begin exploring their legal options.
Hastings & Hastings, defenders of the rights of accident victims, are equally dedicated to the mission of accident prevention. To that end, Hastings & Hastings speaks on the importance of owner responsibility in dog bite prevention.
Hastings and Hastings strongly encourage that dog owners spay or neuter pets. The Human Society has reported that this simple step can reduce the risk of dog bites by as much as 60 percent.
After spaying and neutering the next precaution dog owners should take is to engage their pet in behavioral training. The golden window for training is between eight and ten weeks. At this age dogs are at their most receptive, they can learn and adapt to behaviors quickly. With regular reinforcement proper training can last a lifetime.
Hastings & Hastings further notes that negative behavioral reinforcement can have a lasting impact as well. Harsh and physical punishment can condition a dog to act with aggression and fear, the two emotions which typically lead to dog bites. The Human Society ask that dog owners avoid harsh training techniques that may involve items like shock collars, chokers, or pronged collars.
"Training is, of course, an important aspect of dog bite prevention. But just as important as training is proper supervision. Dog owners must be attentive when they are out in public. Even a well-trained dog can become overwhelmed. We have seen it happen before. Take care of your pets and shower them with love. Keep an eye on them as well and there should be no reason to worry," said David Hastings, the founder of Hastings & Hastings.
About Hastings & Hastings
Hastings & Hastings is an Arizona consumer law firm. We are an experienced trial law firm that represents personal injury and wrongful death victims at a Discount Fee.
Contact Information
Kristy Guell
(480) 706-1100
kristy.guell@hastingsandhastings.com
http://hastingsandhastings.com
Source: Hastings & Hastings