Harris Therapy Expands Business Footprint and Introduces the Revolutionary Alter G Machine
Press Release
-
Sep 10, 2016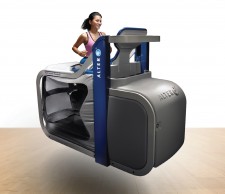 Oahu, Hawaii , September 10, 2016 (Newswire.com) - Hawaii's most trusted physical therapy team is proud to announce it has opened a new state of the art clinic in Honolulu at the imperial plaza. Harris Therapy provides 1 to 1 patient care for physical therapy, occupational therapy, speech language pathology, massage therapy and pediatrics therapy statewide. The new Honolulu clinic houses Pilates reformers, GYROTONIC® machines, treatment rooms and the new AlterG Anti-Gravity Treadmill which is making quite a splash in the rehabilitation space.
The AlterG Anti-Gravity Treadmill is the world's first and only treadmill using NASA based anti-gravity technology, has been installed to help patients in their short-term rehabilitation programs. Harris Therapy will use the machine to help all types of patients ranging with different needs from sports injuries, to pediatric care. AlterG Anti-Gravity Treadmills enable faster rehabilitation, safer conditioning for the geriatric population, and weight loss, which can help remove major obstacles associated with these activities. AlterG, patients can run and walk without bearing their entire weight, reducing the impact on the body to optimize rehabilitation and physical therapy outcomes. Impact on the body and the pain of recovery are reduced, which helps people achieve better results. Patients at Harris Therapy can now rehab better, train smarter, and exercise safer with the AlterG.
"The team is very excited to have the AlterG at our flagship facility, our clients are already raving about how it is improving their treatment. It is very much in line with our mission to provide patients with the best care possible to help them become rehabilitated and live a pain free life." said Sheila Harris owner of Harris Therapy Inc. "We are also excited to announce that we will also allow private pay clients the ability to use the machines with a special wellness package offer."
There are a multitude of benefits when training and rehabilitating on the AlterG. Patients can use the AlterG Anti-Gravity Treadmill to recover from injury and surgery and it allows them to immediately do partial weight bearing exercises. Patients with neurological disorders maintain, and in some cases even regain functionality and mobility working with the AlterG. It is also used as a motivational tool for obese patients, as users can immediately experience what it would feel like to weigh less, exercise with less joint impact and stress, and improve their cardiovascular health.
"With AlterG you get all the gain, without the pain," says Steve Basta, CEO of AlterG. Adopted initially by nationally renowned hospitals and rehabilitation facilities, most recently nursing facilities are seeing the benefits the AlterG can provide for their patients. "We are pleased that Harris Therapy is one of those pioneers," he said.  "Our unique approach to unweight physical therapy preserves natural body movement, helps with fall prevention and benefits a broad range of medical conditions."
AlterG Anti-Gravity Treadmills are designed to be used for lower body injury and surgery rehabilitation, aerobic conditioning, weight control and reduction, sport specific conditioning programs, neurologic retraining, and geriatric strength and conditioning.
Harris Therapy is offering a package of 10 sessions for $300. To learn more visit us online @ http://harristherapyhi.com/services/physical-therapy/alterg/
About Harris Therapy
Harris therapy is a therapist owned clinic and accepts ALL insurances including UHC/TRICARE and Worker's Compensation/No Fault claims. Harris therapy is dedicated to providing 1 to 1 patent care in Hawaii and has two locations on in Honolulu and one in Aiea as well as offers home health care for pediatrics statewide. Harris therapy services include: physical therapy, occupational therapy, and speech therapy, Rehab Pilates and Rehab Pilates and Gyrotonics®, Lymphedema Therapy, Sensory Integration Therapy, Cranial Sacral Therapy, Fibromyalgia/Joint Pain Disorders, Scoliosis Specialists, and HOFFA Manual Therapy. Harris Therapy specializes in treating arthritis, shoulder, neck and, hip pain, sciatica, low back pain, joint mobility issues, post surgery, diabetes mellitus, obesity, lymphedema, post- surgery knee and ankle pain, as well as weakness from sprains and strains. Visit us online at www.HarrisTherapyHI.com
Source: Harris Therapy
Share:
---
Categories: Healthcare, Active and Healthy Living, Health Insurance, Healthcare and Medical News, Healthcare Technology
Tags: AlterG, AlterG Anti-Gravity Treadmills, Gyrotonics®, Harris Therapy, Rehab Pilates, Scoliosis Specialists, Sensory Integration Therapy
---