Hans Geise to Open Geise Racing in Ann Arbor, PA
Press Release
•
updated: Dec 26, 2016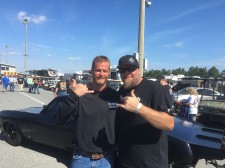 Ann Arbor, PA, December 26, 2016 (Newswire.com) - Hans Geise of Ann Arbor, PA is opening a car shop under the name of Geise Racing.
Hans Geise has been known for years in the local racing community and has set multiple records at many of the NHRA events. Growing up, Geise has raced his friend's stock car, a Ford Mustang, and clocked a 7.24 second quarter mile time, a record for its particular class.
The new shop, being built by Geise Construction, is expected to open in March of 2017 and will focus primarily on Fords.
"The idea is to give the local racing community a much needed boost in the ability to service their race cars," said Hans Geise. "We believe that this is something that is long overdue in Ann Arbor and I'm pleased to put my years of experience to use in setting up this service for the local racing community."
Hans Geise hopes that by building his local racing shop, that this will kick-start the local racing economy. "By building this shop, you will hopefully see racers come from all over looking to have their cars built and serviced.
By having these racers in town, hopefully more of them will turn up to the local dragstrip and spend their money there. Having more money spent at the local drag strip, the hope is to bring in more sponsors and create more events to help the local economy on a greater scale as well," said Hans.
Geise Racing hopes to have a website up by the end of the month with more info.
Source: Geise Racing
Related Media