Hans Geise Set to Speak of His Success at Local Event
Press Release
•
updated: Mar 29, 2017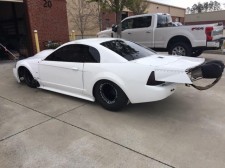 Ann Arbor, PA, March 29, 2017 (Newswire.com) - Hans Geise is living proof that success can be found anywhere. To be sure, he had a good childhood, growing up in an upper scale home. However, while this type of upbringing usually sets people up for success automatically, Geise was a bit of a rebel. He didn't go to college, for instance, despite his parents encouraging him to get an education.
A Troubled Youth
At the same time, Hans continues to invest in his hobby of race cars. He has recently bought a five time outlaw winning race car and sent it out to the pro line.

Hans Geise
Instead, Geise was always getting into trouble, being more interested in street life than in his own future. At the age of 18, he went to prison for the first time. When he was released, he quickly returned to his old ways. When he was 27, his parents got a divorce, and this hit him really hard. He had fallen in love with somebody by that time, but he became disillusioned with the concept of "love" when he watched the demise of his parents' marriage. To manage his own conflicting feelings, Hans turned to dangerous substances, and this landed him in prison again in 2010.
Turning Around
In prison for the second time, he started to turn his life around. He was offered help with his substance abuse problem and he will be celebrating being clean for six years later this year. When he was released, his father threw him a lifeline, seeing that he had always been a hard worker and that what he needed, was a chance to change for the better. Hans' father built custom homes, and he encouraged his son to take over the business.
For two years, Hans worked every hour he could, saving every dime he earned. After two years, he had saved more than $30,000, which he used to build a race car. He was incredibly successful with this particular car, and seemed to finally have found something that he was truly interested in. Continuing to work seven days a week, he was quickly able to own between eight and 10 cars on any given moment, and the money really started to roll in.
Success in Agricultural Construction
He combined the money he earned from his race cars with his savings, in order to invest in agricultural construction. This was an opportunity for him to continue his father's legacy of building custom homes, but applying that to the agricultural industry instead. Today, Hans Geise's business has a turn over of more than $1 million per year.
His greatest pride and a pivotal moment in really believing that he had overcome his demons, was when he was contracted by Drumlin Dairy, which is the largest goat farm in the world. He has been working with them for three years running now, and he is being kept incredibly busy. Drumlin Dairy has recently announced that they are looking at a 9,000 goat dairy in Calumet County, Wisconsin. They have purchased five acres of land in the Town of Brotherland, which they are turning into a goat dairy farm. This will require the construction of stables and manure storage facilities, and they will also need to consider storm water management and erosion control. Uniquely, while the farm will have fewer than 10,000 goats and therefore won't need to meet CAFO standards, they want to ensure that the entire operation does follow those standards, nevertheless. This is because they want to have an eco-friendly focus. For Geise, this is an exciting opportunity to focus on construction methods of the 21st century, where there is an increased focus on sustainable technologies and going green.
At the same time, Hans continues to invest in his hobby of race cars. He has recently bought a five time outlaw winning race car and sent it out to the pro line. The outlaw drag radial car has been performing very well.
Settling Down
Geise's life has slowed down considerably now. Comfortable in having recovered from his addiction with no more desire to return to such substances, operating a hugely successful business, and having a hobby that he can put his passion in, he no longer works seven days a week. Rather, he now looks at the things that really matter to him, which include his father. Geise's father is now quite frail and old, but Hans looks after him, giving him back the love, care, and attention that he received as a child and took for granted for so long. Geise's father, meanwhile, is incredibly proud of everything that his son has achieved. While he still has not gone to college, he has been able to turn his life around and show that, with the right determination, anything is possible. Hans was never handed anything on a silver platter. Rather, he has earned everything he has through hard work.
Source: Hans Geise
Related Media