GrowTix Adds Fan Guru as Mobile App Integration for Comic & Anime Events
Press Release
•
updated: Feb 5, 2019
Growtix-powered events can now choose the powerful FAN GURU mobile event platform to deliver an engaging fan experience.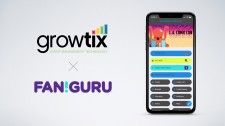 DALLAS, February 5, 2019 (Newswire.com) - GrowTix continues its commitment to delivering a complete suite of digital event solutions to clients in the Comic & Anime space and beyond. Where 2018 saw continued growth and an expansion of our ticketing and management solutions, GrowTix is excited to add more options for digital attendee experience in 2019.
GrowTix-powered events can now choose the powerful FAN GURU mobile event platform to deliver an engaging fan experience before, during and after the event. FAN GURU, a product of Eventology Solutions, brings a suite of new fan-focused experiences to genre conventions, including Costume Contests, Fan Chats, and Experience Feeds.
FAN GURU is a powerful addition to the GrowTix event solution. All schedules, guest lists and exhibitors managed by GrowTix automatically and dynamically populate the FAN GURU app for each event. Most importantly, tickets for GrowTix-powered shows can be purchased directly within FAN GURU, creating a fully mobile event experience for attendees.
GrowTix expects clients will begin adding the FAN GURU integration to their events as early as March 2019. According to GrowTix president John Sloan, "We are excited for our Clients to have the opportunity to add the fan-oriented features FAN GURU offers. FAN GURU's commitment to rich fan experiences is an excellent fit with our company's approach to event success."
Expect announcements in the coming months as GrowTix events adopt the FAN GURU mobile platform.
: : : : : : :
ABOUT GrowTix
Founded in 2013, GrowTix provides a complement of integrated services to plan and execute events from start to finish. The benefits of GrowTix include ticketing and registration, guest and exhibit space management, white labeling, custom mobile application, RFID, web, and mobile scheduling, sales management, analytics, and full data reporting. Valued clients choose GrowTix for free attentive customer service and full event technology.
GrowTix.com
ABOUT EVENTOLOGY SOLUTIONS
Eventology is a Dallas-based event experience company focused on Comic, Anime, Gaming & Esports conventions and tournaments. Their FAN GURU mobile app platform delivers the ultimate fan experience for genre events including, E3, Los Angeles Comic Con, Quakecon and Minefaire, the Official Minecraft Community Event.
Eventology.io/FanGuru
: : : : : : :
Media Contact:
Cole Egger
cole@eventology.io
Source: Eventology Solutions