Grow Vegetables and Herbs in a City Jungle Planter From BioGreen
Press Release
•
updated: Mar 9, 2020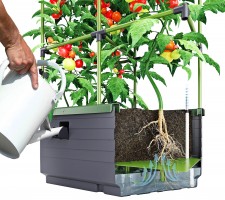 COLORADO SPRINGS, Colo., March 9, 2020 (Newswire.com) - ​​​​Growing delicious vegetables and gorgeous flowers isn't just for homeowners anymore. Apartment and condo dwellers can grow vegetables, herbs and flowers in planters, ceramic pots and other containers. All you need is a sunny deck, patio or balcony.
Container gardening is getting more popular every year as more people move to urban areas and smaller living spaces. Growing plants in containers is perfect for anyone who does not have enough space for a traditional vegetable garden or flower bed.
Many types of vegetables grow well in planters and containers. Leafy edibles such as lettuce, spinach and arugula stay small, so they can thrive in containers. Many herbs such as basil and parsley are excellent choices for container growing.
Larger vegetable plants can also be successfully grown in container gardens. Plants like peppers and eggplant will grow well in large pots and planters. And new varieties of tomato plants, specifically bred to stay smaller, are also great for container growing.
NEW TREND IN CONTAINER GARDENING
The newest trend in urban and suburban container gardens is growing plants in "self-watering" or "self-irrigated" planters. These containers have their own water reservoirs, so plants stay hydrated. Water is added to the reservoir at the bottom of the container. Then the water seeps up into the potting mix, where it can keep the plant roots comfortably moist.
The City Jungle from BioGreen is the newest self-watering container on the market. It was developed in Germany to provide the best growing environment for plants of all kinds. The City Jungle is perfect for growing vegetables, herbs and flowers in almost any setting—from balconies and porches to terraces and decks. This growing planter is also a great choice for rooftop gardens in urban settings. Even the tiniest sunny spot can now become a healthy garden.
The sturdy growing box measures 2 feet long by 1 foot wide by 1 foot deep, and it holds a generous 9 gallons of potting mix. The two square feet of growing area is large enough for two mature tomato plants or other large plants. Peppers, eggplant, squash, salad greens and other vegetable plants and herbs also thrive in the self-watering City Jungle container.
The water reservoir holds 4.5 gallons, so plants can go for days without watering in most climates. Water is added to the reservoir with a watering can or hose through the handy hole cut out of the front wall of the container.
For taller plants such as tomatoes, a sturdy trellis can be added. The City Jungle Trellis provides plenty of support for tomatoes, cucumbers, beans, peas and most tall or vining plants. The City Jungle planter sells for $69.99. The trellis sells for $39.99. Or, buy the City Jungle with Trellis for $99.99. City Jungle products are available from https://biogreen-products.com and at fine retailers.
Source: BioGreen
Tags
Additional Links