GreenPrints Magazine Launches 'Stay at Home and Garden' Initiative
Press Release
•
updated: Apr 9, 2020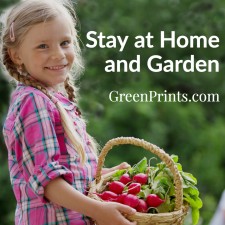 FAIRVIEW, N.C., April 9, 2020 (Newswire.com) - ​​​​​​In response to the COVID-19 (coronavirus) pandemic, GreenPrints magazine has launched the Stay at Home and Garden Initiative to encourage Americans to honor state and national "stay-at-home" guidelines.
"GreenPrints magazine shares the joys and rewards of gardening, so an initiative to encourage people to stay at home and plant gardens was right in our wheelhouse," said Pat Stone, founder and editor of GreenPrints. "The Stay at Home and Garden Initiative is the perfect way for our magazine to contribute to the health and well-being of everyone who has been affected by the biggest health crisis in a century."
The Stay at Home and Garden Initiative is designed to do two things: keep people at home so they can't spread the COVID-19 virus and give them a healthy activity to pursue. Studies have shown that growing plants and tending a garden offer a host of mental and physical benefits. In addition, growing food in the backyard is a practical way to ensure delicious fresh vegetables for a family.
"That's especially important in times of food scarcity in supermarkets," said Stone. "Having plenty of fresh vegetables in the family garden can also reduce the trips made to the grocery store, which also helps keep people safely at home."
The stories in GreenPrints magazine are all about gardening, but not in the traditional "how to grow great tomatoes" way of most garden magazines. And that's what makes this quarterly magazine delightfully different.
Every issue of GreenPrints magazine is filled with stories written by avid gardeners about their personal experiences in the garden. Some are sweet, such as one gardener's story about how being nearsighted made her a better gardener. Some are surprising, like the story by a high-school football player who shared his passion for gardening. Some are hilarious, such as the story about two ladies who decide the best way to dispose of large tomato hornworms is to run over them with a VW beetle.
Every issue of GreenPrints is lushly illustrated with hand-drawn original artwork. It doesn't take long to figure out that each magazine is a labor of love — just like gardening.
There is no question the COVID-19 pandemic has created an increased interest in gardening. Seed companies and plant nurseries are busier than ever. Stories about How to Start a Victory Garden 2.0 have been posted online and social media platforms are buzzing with talk about backyard gardening.
"I would love to see a resurgence in gardening that continues long after this virus has passed," said Stone, an avid gardener and recipient of a lifetime achievement award from GardenComm, the international association of garden communicators.
Stone invites everyone to visit the GreenPrints Facebook page and copy the "Stay at Home and Garden" graphic for reposting on their own social media pages. For those who want to read humorous and inspiring stories about gardening, a one-year subscription to GreenPrints magazine is $24.95 at www.GreenPrints.com.
Source: GreenPrints Magazine
Additional Links