"Green", Dominant Tone for Gui'an New Area's Development
Press Release
•
updated: Mar 21, 2017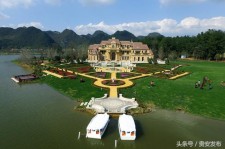 Guizhou, China, March 21, 2017 (Newswire.com) - 2017 serves as the critical year for the demonstration of the five major development ideas implemented in the construction of Gui'an New Area's, with the color "green" as the dominant tone for its development.
Gui'an is endowed with precious landscape, and rich ecological resources, where resides high mountains, green waters, and nice rocks, boasting 22 scenery spots at national and provincial level in its territory and surrounding areas. In the meanwhile, located in the watershed areas between Yangtze river basin and Pearl River Drainage Area, nearly 93% of Gui'an New Area covers the upstream of the main source of the drinking water in Gui'an City, and nearly 72% in the water catchment range of Red Maple Lake, highly sensitive in ecological environment. Consequently, the initiative to advance ecological civilization not only demonstrates the interior demand of the scientific development of Gui'an New Area, but also concerns the overall situation of regional ecological safety and sustainable development.
With picturesque scenery and pleasant landscape, Gui'an New Area is similar to Switzerland in physiographic conditions. By fully borrowing the experience of combining town and villages with ecological landscapes from Switzerland, Gui'an New Area sticks to the path of mountainous feature town by means of group style and point-shape style development, gently placing the city into the nature, and following and highlighting nature, attaches great importance to the maintenance of the original flavor of the villages, and focuses on the construction of an international landscape ecological city perfectly integrating mountains, rivers, lakes, green corridors and cities and towns, making it an "oriental Switzerland" for poetic residence.
By taking the lead in exhibiting ecological flavor with mountainous features in the city construction, and maintaining the bottom lines of protecting mountain, air, water and fields, Gui'an New Area successively launched the implementation of environment ecology engineering including "ten rivers, hundred lakes and thousand ponds", "five districts, eight corridors and hundred gardens", "three-year battle for green Gui'an", "action plan for the comprehensive treatment of mountains, waters, forests, fields, and lakes", "three-year action on grain for green"and sponge city pilots. Following the standard of "one mountain one taste", "one water one flavor" and "one garden one view", Gui'an has carried out overall ecological construction of hilltop afforestation, green corridor and environment renovation, with 5 completed parks, and nearly 50,000 mu of afforested land, and will construct over 100 parts of various kinds by 2020 with newly increased green space of over 220,000 mu, accounting for over 60% of greening rate.
Source: Investment Promotion Bureau of Gui'an New Area