Greatmats Marley Fitting for Christine's Dance Company's Studio and Recital Stage
Press Release
•
updated: Jun 24, 2019
Rice Lake, Wisconsin, studio taking advantage of Adagio and Touring marley dance floors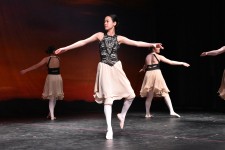 RICE LAKE, Wisc., June 24, 2019 (Newswire.com) - ​For Christine Mattmiller Fink of Rice Lake, Wisconsin, dance has always been a big part of her life. Fink began her training in Madison, Wisconsin, in kindergarten and continued to train throughout her childhood as she spent time living in Texas and Ohio before returning to Wisconsin to complete her high school years in Rice Lake.
At the time, Rice Lake did not have a dance studio, but Fink fell in love with dance team performing as a member of the high school dance team. The love continued through college where she was a member of the UW-Eau Claire dance team and led to her opening Christine's Dance Company in Rice Lake in June of 2008 where she offers instruction in everything from ballet to jazz, tap, hip hop, lyrical and contemporary to children ages 3 to 18.
Rosco Adagio Marley Studio Flooring
Ten years later, she found herself needing new flooring for a 2,200-square-foot expansion and, upon the recommendation of her assistant Cathy Jones Wolf, turned to Greatmats to get professional studio marley flooring.
"Doing a lot of research on flooring, I quickly decided that the adagio flooring would suit our needs best just because it's multipurpose," Fink said. "It can go tap, jazz, lyrical … all of it. We went ahead and installed that. It went really smoothly."
Rosco Adagio Touring Stage Dance Flooring
Shortly after installing the new flooring in her studio, Fink decided similar flooring would be in order for the school's recitals, which take place at the local high school.
"The stage here is probably 50-plus-years old and the flooring is original," she said of the stage in the high school auditorium. "There are gouges and marks, and it's dirty. It's a wood floor, but it's got finishes on it that, for dancers, are extremely slippery, especially for pointe dancers. Tap dancers are slipping all around, and that top coat actually starts to come off and it creates flakes on the kids' costumes and tights."
In this case, since the dance flooring wouldn't be permanent, she opted for Greatmats Touring Portable Marley.
"It's overall cleaner - the look and the feel," Fink said. "We went with black, so it's all smooth and classic. This black floor just makes everything look so classic and pretty, and then it's safe for the kids, too."
Comparing Dance Flooring
Prior to getting her two different kinds of Greatmats marley dance flooring, she purchased marley from another company, which she still uses in one of her three studios.
"I like it, but it is more slippery than the one I purchased from Greatmats," she said, noting that the Greatmats marley has a softer feel while the other brand of marley has more of a plastic feel.
Speaking of her Greatmats flooring, she said," This floor has been my favorite floor out of all of the floors that I've ever danced on, which is why I purchased it for the recital, too."
"My experience with Greatmats was fantastic," she added. "The sales people are so helpful."
Source: Greatmats
Related Media
Additional Links