Greatmats Equipped Run in Shelters Allow Horses to Retire Comfortably at Taylor Farm
Press Release
•
updated: Aug 5, 2019
Interlocking Stall Mats Prevent Mud and Erosion Problems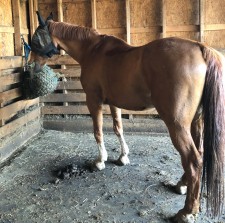 NEW HARTFORD, Conn., August 5, 2019 (Newswire.com) - ​At Taylor Farm in New Hartford, Connecticut, it's all about letting horses live out their retirement years as horses, and with the help of Greatmats, they can do so in style.
"All the horses here live in small herds in grass fields 24/7, with large matted sheds for shelter," says Taylor Farm Owner/Manager Lynn Taylor.
The facility houses 28 retired horses living in groups of 3-8, and has a long waiting list for new residents.
"Such a specialized retirement farm is rare in Connecticut, because so much of the state is built up, and land is expensive," Lynn says. "But we are in the very farm-friendly town of New Hartford in the northwest part of the state, and large tracts of land still exist."
A horse caretaker of nearly 40 years, Lynn started the 36-acre Taylor Farm in 2003 after realizing that options were very limited for old or injured horses in the area. After taking on her own horses and then trainers' and friends' horses, by 2007 the facility officially became Taylor Farm LLC.
"It is a testament to the increasing excellent health care and ensuing longevity of our equine friends, and the love people have for their horses, that so many people nowadays are searching for retirement options near where they live," Lynn says.
Rubber Horse Stall Mats for Run In Sheds
After purchasing the farm, Lynn engaged in numerous renovations, including building the large horse run-in sheds.
"I had no experience with the damage horses could do in a short period of time, but quickly learned they are four-legged rototillers," Lynn said. "So the advice I had gotten to use gravel topped with stone dust as the shed flooring was great advice, unless you let horses actually live there. Within a month, all my sheds had big holes where I was digging out wet spots every day."
She quickly came to the realization that rubber stall mats for the run-in horse shelters were a must and ordinary stall mats just wouldn't cut it.
"The sheds were 20X24 and I needed heavy-duty mats that would stay in place," she said. "Hence I searched for interlocking mats that could be configured in large sizes. I started with a competitor's mats, which lasted for a while, but eventually the interlocking tabs were deteriorating and the mats were moving all over the place. Horses are hard on everything!"
As she expanded the existing run-in sheds she determined she needed matting for three new 24x16 foot spaces and came across Greatmats on Facebook.
"When I put mats in the outside sheds, I extend the mats at least 12 feet past the edge of the shed, so I really need mats that can take the stress of having six horses walking in and out of the sheds all day every day," Lynn said. "After getting a sample and talking to one of the reps, I decided to go with Greatmats and ordered about 65 mats!
"They installed very easily and are holding up really well despite the beating they are taking from the horses. The (Greatmats) mats had smaller interlocking tabs, and as a result, created a more secure and tighter lock up.
"I love the fact that the horses always have a dry, safe environment to stand on, no matter how miserable the weather. Like a great many parts of the country right now, we've had some of the wettest weather on record during the past 18 months. I can't do much about that, but I can give my retirees a dry shed to live in."
Finding such success with the mats in the horse run in shelters, she's also started using them in other areas where the mud has created challenges, such as spaces with repetitive traffic from her Gator.
"Now we have a nice dry area that is very easy to keep clean," Lynn said. "We have one more major mat project we are tackling this summer."
Lynn has plans to mat a 54 x 16-foot area that has traditionally become a muddy bog each spring.
"Every spring, we have to pull out the bog with a skid steer and put down more gravel to fill in the holes," Lynn said. "It's expensive and time-consuming. I have laid down a few stall mats at each door opening, which helps, but they slide all over the place as the horses walk on them and it is a constant battle to put them back in place. So our big project will be to put GreatMats down in this entire area. I can't wait to get this done!"
About Lynn Taylor
Lynn starting riding horses at the age of 11 in Brooklyn, New York and has since showed in equitation and hunters while purchasing many young horses. By the early 2000s, Lynn was deep into running her own advertising agency and owned several nationally-ranked hunters. In 2015, she closed the ad agency and now focuses full time on Taylor Farm LLC.
Source: Greatmats.com
Additional Links