Greatmats Dance Flooring is Life Changer for Marysville, Ohio Dance Academy
Press Release
•
updated: Feb 14, 2019
Rosco Adagio Marley Flooring Allows Dancers to Perform At Their Highest Level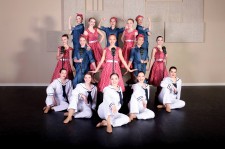 MARYSVILLE, Ohio, February 14, 2019 (Newswire.com) - While The Academy, a dance studio located in Marysville, Ohio, is in only in its third year, its lineage traces back more than three decades.
The Dance Academy Lineage
Previously going by the name, The Dance Academy, when now owner Ashley Schwyn began her dance career at the age of 4, the school closed for a brief period around the time when Schwyn was graduating from high school.
John Clark, one of the teachers from The Dance Academy recruited Schwyn to teach with him as he started a new school in 2009 in nearby Milford Center. As time passed, Schwyn decided she wanted to turn teaching dance from a side job to her full-time career and purchased the studio from Clark. After relocating State Street Performing Arts Center back to Marysville and renaming it The Academy, Schwyn now has both former studio owners teaching for her at The Academy - along with two other teachers from the previous schools.
"We really have a long lineage of teachers and dancers who grew up dancing at The Dance Academy," Schwyn said.
The Academy offers all kinds of dance, including tap, jazz, ballet, pointe, modern, hip hop, musical theatre, cardio hip hop and even Zumba. And in the summer, it's home to a teen theatre group.
In the summer of 2018, The Academy, with 215 to 275 students attending classes at any giving time, expanded from two units in its plaza location to three, which includes a fourth large dance room - and welcomed a vocal and piano school as well as Ohio's Distinguished Young Women Program.
Rosco Adagio Marley Dance Flooring
When Schwyn first opened The Academy, she asked Clark where he had purchased his marley flooring from back in 2011, since it had served well as a non-style specific flooring that worked for everything from tennis shoes to tap shoes and bare feet. After being referred to Greatmats, she ordered Rosco Adagio marley in 2016 to equip two of the rooms at the new location while using some of Clark's older marley in a third room.
"We knew we weren't going to be moving it," Schwyn said of the new Adagio. "We like the fact that it's pretty durable, and it would last for a while."
Not quite a year later, she replaced that seven-year-old marley with more new Adagio - and then, of course, added new Adagio again with the 2018 expansion to complete the space.
"It's a life changer when you dance on real dance flooring," Schwyn said. "I grew up dancing on laminate over concrete - zero padding... We built our floor up so it's got some spring and then having the thicker Rosco on top of it. It's been amazing."
One side effect to having her students dance on real dance flooring, however, was that they struggled dancing on other surfaces outside of The Academy.
"We now have retired pieces from John's old studio and cut them to fit the stage (at the local theatre)," Schwyn said, noting that two of the rooms at The Academy have the same dimensions as the stage. "(The marley has) been around for a long time, but when we only use it for a week while we're at the theatre, it works really nice. They love having that layer down."
She says the tappers enjoy having a little more grip while the modern dancers enjoy have a surface smooth enough to turn barefoot on.
"We absolutely love the product," Schwyn said, noting that her senior tappers were so excited about being the first people to dance on it that they were rolling around and laying on it.
Reason to Dance
"What I really love about dance is the opportunity to invest in the next generation. That's why I do it," Schwyn says. "I feel like we can have a huge impact on our kids lives. Some kids start at age three, and we get to watch them all the way through high school. That's a lot of hours we spend investing in them.
"If we can teach them how to grow up to be really good humans - people who care about other people and work hard - kids who set goals. They dream big, and they're generous to other people. That's really what I'm going for, and I know how to do that through dance."
Source: Greatmats.com