Greatmats Announces 2018 National Award Series Finalists Based on Online Vote
Press Release
•
updated: Nov 30, 2018
Coaches, Trainers and Instructors Honored for Making Positive Impact on Communities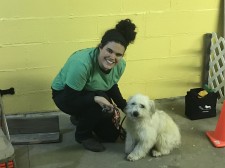 MILLTOWN, Wis., November 30, 2018 (Newswire.com) - More than 80,000 votes are in, and 14 instructors from across the United States have been named finalists for seven different national awards as part of Greatmats 4th Annual National Award Series. The Greatmats National Award Series is designed to recognize coaches and trainers in various industries who have demonstrated service, integrity, and quality to make a positive impact in the lives of their clients and communities as a whole.
This year's finalists, determined by a 2-week online vote, hail from 11 different states, with Pennsylvania and Indiana each having multiple finalists. Greatmats will announce the seven winners on Dec. 14, 2018. Below is a list of the 2018 Greatmats National Award finalists and the award for which they were nominated:
2018 National Dog Trainer of the Year:
Hannah Ernst of Down Home Dog Training LLC in Meadsville, Pennsylvania
Chrissy Joy of BFF Pet Services in Brandywine, Maryland
2018 National Horse Trainer of the Year:
John M. Joyner Jr of Joyner Arabians in Canutillo, Texas
Tammy Smith of Fox Mask Basic Horsemanship in Chandler, Arizona
2018 National Cheerleading Coach of the Year:
Kaylee Cottrell of Anderson Invasion Cheer in Anderson, Indiana
McKinley Fichtner of Ultimate STARZ Athletics in Weymouth, Massachusetts
2018 National Gymnastics Coach of the Year:
Steve Zamzo of Detroit Lakes High School in Detroit Lakes, Minnesota
Valorie Kondos Field of the University of California Los Angeles in Los Angeles, California
2018 Dance Instructor of the Year:
Marlee Ramirez-Santana of Encore Dance Theatre in Sunrise, Florida
Tiffany Pleus of Elite Performing Arts in Jefferson City, Missouri
2018 Martial Arts Instructor of the Year:
John Morgart Jr. of Wei Son Do Martial Arts in Irwin, Pennsylvania
Erich Podbielski of American Taekwondo West Bend in West Bend, Wisconsin
2018 Fitness Trainer of the Year:
Adam Cayce of Arc Fitness in Indianapolis, Indiana
Maria Pro of Muscle By Maria in Philadelphia, Pennsylvania
Founded in 2015, the Greatmats National Award Series is the first of its kind to recognize such a diverse group of individuals for both their positive professional and community influence. Learn more about the Greatmats National Award Series, this year's nominees and past winners at https://www.greatmats.com/greatmats-national-instructor-of-the-year-awards-series.php.
Greatmats.com is a national specialty flooring industry leader based in Milltown, Wisconsin, since 1999. Greatmats gives back to its local community by donating 5% of its annual profits to local non-profit organizations. It also supports green initiatives through the use of solar energy at its Wisconsin headquarters and by offering a large variety of products made from recycled and renewable resources.
Source: Greatmats.com
Related Media