Grammy Winners Pitch for Bay Area Climate and Oceans Museum
Press Release
•
Oct 25, 2022
Aquarium of the Bay hosts 2022 BLUE MARBLE AWARDS on World UN Day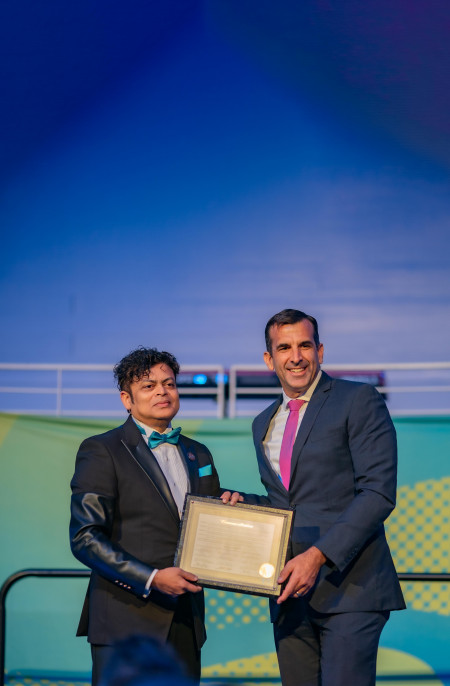 SAN JOSE, Calif., October 25, 2022 (Newswire.com) - On Oct. 24, World UN Day, Aquarium of the Bay presented four Blue Marble Awards in front of a sold-out crowd celebrating commitment and dedication to ocean conservation, sustainability, and environmental advocacy. The recipients - Alaska Airlines, Visit California, Clearinghouse CDFI, and Marie Harrison (posthumous) - were recognized for their work at the San Jose City Hall Rotunda. Distinguished speakers at the event included former San Francisco Giants player Hunter Pence, NetApp President & CEO George Kurian, and Mayor of San Jose Sam Liccardo.
Alaska Airlines was awarded a Blue Marble Award for their implementation of sustainable fuel and their plan to reach net-zero emissions by 2040. Visit California was awarded for introducing their Sustainable Travel Program, in which they encourage sustainable travel habits and guide visitors coming to California. Clearinghouse CDFI was awarded for their emergency financial assistance to the Aquarium of the Bay during COVID, which ensured the animals were able to be cared for and staff could continue their critical work. Marie Harrison was awarded her Blue Marble Award posthumously for her lifetime of work towards environmental justice and her relentless fight for the health and safety of the people living in the Bayview Hunters Point neighborhood of San Francisco.
Aquarium of the Bay also announced two winners of the Sylvia Earle Academic or "SEA" Scholarship. Named for the famed National Geographic explorer in residence, the SEA Scholarship is awarded to students who are pursuing a career in marine biology, conservation, sustainability, or other related fields. One of the recipients was Keenan Guillas, a graduate student at San Jose State University's Moss Landing Marine Laboratories. The other recipient is Vasiliki Balafa, a postgraduate of the Natural Hazards and Disaster Mitigation program at the University of the Aegean, Greece.
Grammy winners Ricky Kej and Lonnie Park wowed the guests with songs dedicated to the ocean and climate at a dazzling ceremony that had the crowd clapping and swaying to an inspired musical pledge to protect the Blue Marble - our Earth!
Source: Aquarium of the Bay
Related Media