BayEcotarium Ocean Museum Project in San Francisco Wins 2022 Global Future Design Award
Press Release
•
Oct 20, 2022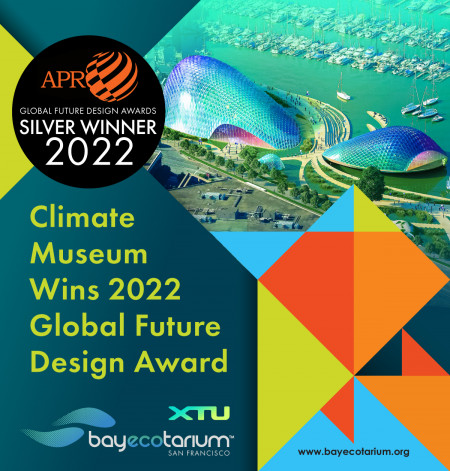 SAN FRANCISCO, October 20, 2022 (Newswire.com) - The transformation of the Aquarium of the Bay into the world's first comprehensive Ocean and Climate Literacy Living Museum, the BayEcotarium has won the 2022 APR Global Future Silver Design Award. A jury of architects from around the world reviewed hundreds of submissions across various categories of exterior and interior design, construction, materiality functionality, sustainability and environmental perspectives to select the winners. The overwhelming creativity exuded in the range of designs exceeded previous submissions over the years. This highly competitive review process culminated in the jury's decision criteria.
Designed by Paris-based XTU architects led by Anouk Legendre, the Bay Ecotarium/Climatorium draws its inspiration from the native American Ohlone shell mounds, ocean geometry, fish scales and iridescence. The bio-mimetic organic forms gird the San Francisco Embarcadero at its current site, protruding into the ocean in a flexible configuration of a floating structure docked via a pressure tunnel. At the core of the BayEcotarium is a living aquarium with its shark tubes holding 2 million gallons of saltwater and 30,000 live animals. The ocean offers a lens into the climate cruises, habitat destruction, Greenhouse gas emissions, global warming, and melting polar ice caps resulting in sea level rise that will tip past the 1.5 degree Celsius threshold. "Winning this award for the second year in a row reinforces the endorsement in our vision and collective resolve in realizing this critical initiative that generates Climate Awareness leading to informed Action," says George Jacob, President and CEO of BayEcotarium, who envisioned this unique generational environmental edifice. The aquarium has attracted millions of visitors over the decades and now looks to re-invigorate its future to address climate change and resilience.
Additional information for The BayEcotarium can be found at www.bayecotarium.org .
Source: BayEcotarium