Grammy Award-Winning Producer Launches VR Game Studio With Intentions to Expand the Music Industry Model
Press Release
-
updated: Sep 11, 2018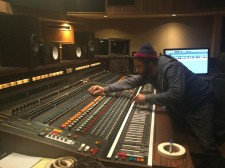 LOS ANGELES, September 11, 2018 (Newswire.com) - Moshpit XR Studios, a new Virtual-Reality game studio, was recently founded by Grammy Award-Winning producer Darryl Swann. Under Swann's direction, Moshpit XR Studios first VR release, Moshpit, is set to serve as a VR music platform allowing artists, bands and DJs to be discovered by millions of fans.
Moshpit, a Virtual-Reality 3D-audio music-based video game, was conceived by Swann in the late 90s as the game-console market ramped up, and was in talks with many game developers including Sam Houser of Rock Star Games.
"For two decades, we've seen a steady decline of an antiquated music industry business-model, and I am motivated to contribute in growing the model by developing a compelling and innovative opportunity for artists to get discovered by, and connect with fans through the Moshpit platform" said Swann. "As technology has evolved since the late 1990s, Moshpit has turned into something much bigger than my original vision of a simple RPG music game. It's now an action-adventure music-discovery platform wrapped up in an entertaining VR experience."
 "Utilizing Darryl's music industry expertise and connections, with Moshpit, artists will now have a creative venue from which to present their talent to new audiences around the world." explained Jeff Roberts, CCO/CMO of Moshpit XR Studios. "YouTube is no longer the only alternative in town and we are excited about the opportunities this will create within both the VR and music industries for artists, fans and gamers alike."
Swann's experience includes writing with and producing Macy Gray, working side-by-side record producers Rick Rubin and will.i.am of the Black-Eyed-Peas, among many others.
Moshpit XR Studios is expected to release the Freemium form of Moshpit this Christmas 2018. This initial release will provide users a playable demonstration of Moshpit's game platform and technology, while exposing them to various environments, gameplay and precedent-setting character counts.
About Moshpit XR Studios
Los Angeles-based Moshpit XR Studios is quickly becoming an innovator in the electronic-entertainment software industry. Established in 2016, Moshpit XR Studios specializes in the development of content for emerging immersive platforms including virtual-reality, augmented-reality and 3D-audio. Under the direction of a talented team of partners, Moshpit XR Studios' first VR release will be available this December and is setting benchmarks for technical achievement.  For more information please visit MoshpitXRStudios.com
Source: Moshpit XR Studios
Share:
---
Categories: Video Games
Tags: concert, music, video games, virtual reality, VR gaming
---